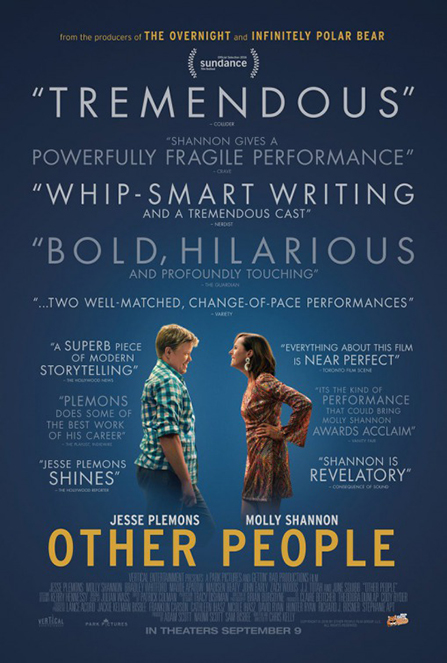 English version:
Recently we had a chance to attend San Diego International Film Festival's opening night and see their opening film. The film they chose this year to open the festival was Other People directed and written by Chris Kelly (making is debut as a movie director) and starring Jesse Plemons, Molly Shannon, Bradley Whitford, Maude Apatow, Madisen Beaty, John Early, Zach Woods, J.J. Totah, and June Squibb.
The film is about David (played wonderfully by Jesse Plemons) who goes home to care for his mom who is in late stages of leiomyosarcoma (an extremely rare form of cancer) and how the family deals with things after Joanne (played by Saturday Night Live veteran Molly Shannon) decides to stop her chemotherapy.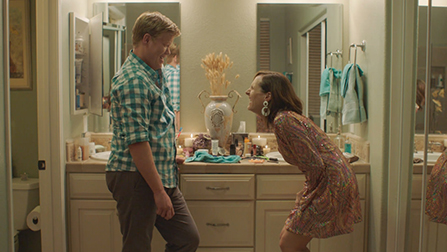 The supporting cast is great and features quite a few primetime veterans either in larger roles, or blink and you'll miss it roles such as Matt Walsh (Brooklyn Nine-Nine, Veep), Kerri Kenney (Reno 911!), Retta (Parks and Recreation), among others.All the performances in the movie were terrific, but J.J. Totah despite only being in 2 scenes totally stole the spotlight when he was on camera...his second scene reminded me of a certain scene in Little Miss Sunshine with a very young Abigail Breslin.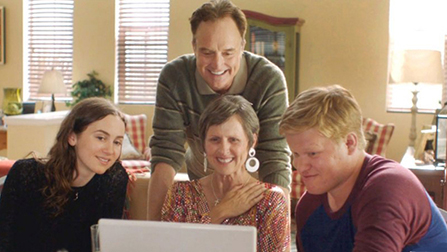 Those who have seen that movie may have an idea of what we're referring to.we thought overall the movie was terrific, mixing drama and comedy wonderfully.
French version (Earina's translation):
Récemment, nous avons eu la chance d'être présents à la nuit d'ouverture du festival international du cinéma de San Diego et de voir le film d'ouverture. Le film choisi cette année pour l'ouverture du festival est Other People, écrit et réalisé par Chris Kelly (marquant ainsi des débuts en tant que réalisateur) avec: Jesse Plemons, Molly Shannon, Bradley Whitford, Maude Apatow, Madisen Beaty, John Early, Zach Woods, J.J. Totah, and June Squibb.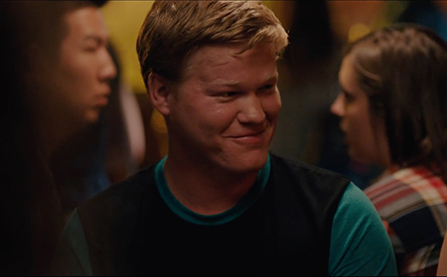 Le film parle de David (merveilleusement interprété par Jesse Plemons) qui rentre chez sa mère, Joanne, (interprétée par la vétérante du Saturday night live Molly Shannon) au dernier stade de leiomyosarcoma (une forme tres rare de cancer) afin de prendre soin d'elle et de l'impact que cela a sur Cette famille après qu'elle décide de stopper sa chimiothérapie.
Le casting est incroyable et comprend quelques vétérans de la télévision Dans des rôles plus importants ou des clins d'œil comme Matt Walsh (Brooklin Nine-Nine, Veep), Retta (Parks and Recreation), entre autres.

Toutes les performances dans ce film sont époustouflantes mais J.J. Totah, bien qu'il n'apparaisse que Dans deux scènes, vole la vedette dès qu'il est face à la caméra... sa seconde scène m'a rappelé une certaine scène de Little Miss Sunshine, avec une très jeune Abigail Breslin.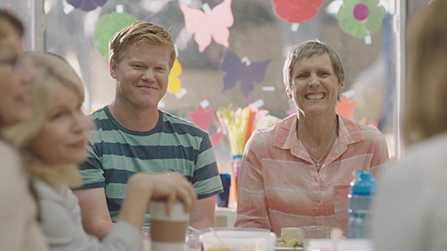 Ce qui ont vu ce film ont certainement une idée de ce à quoi nous nous référons. Nous avons trouvé ce film incroyable, mixant le drame et La comédie à merveille.
Vu le 28 septembre 2016 au cinema The Balboa Theater, San Diego CA 92101
thej00's Mark: