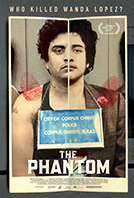 Durée:
82 minutes
Réalisateur:
Patrick Forbes
Sortie:
Cinéma
Date:
02 juillet 2021
Note:
The Phantom suit Carlos DeLuna, qui a été arrêté en 1983 pour le meurtre d'une femme, et a protesté de son innocence jusqu'à son exécution, affirmant qu'un autre Carlos avait commis le crime.
Critique de Mulder
Discovered during the Trbeca festival, Patrick Forbes' documentary film, The Phantom, gives a new look at the Carlos DeLuna case. He was arrested in 1983 for the murder of Wanda Lopez, who was stabbed to death. Until his execution, he protested his innocence claiming that another Carlos had committed the crime. This documentary film appears as a real investigation in the same way as the series Cold Case. The numerous videos allow us to see interviews with legal experts, members of Carlos DeLuna's family and to wonder if he really had a fair trial. We wonder if Carlos DeLuna was really the killer or a simple scapegoat of an American expedient justice.
The documentary shows that the investigation carried out at the time left too many shadows and that it was necessary to incriminate a person. The doubt concerning Carlos DeLuna was more than justified by the fact that no blood was found in his clothes and that his only fault was to be part of the American minorities too often pointed out as being the source of all the misfortunes of society.
The construction of the film clearly in two parts gives a solid foundation. While the first part allows us to better understand this case and the elements attached to it, the second part brings several points of view in order to better understand the workings of a flawed system. It is easy to understand that director Patrick Forbes' intention with his film is not only to take a critical look at a specific case but to say that this case is not unique and that there may be other innocent people in prison accused of murders.
The Phantom differs from other documentaries on miscarriages of justice such as Al Reinert's An Unreal Dream: The Michael Morton Story, Joe Bailey Jr. and Steve Mims' Incendiary and Errol Morris' The Thin Blue Line in the sense that the director was able to fully invest himself in his film and is at ease in his interviews and knows how to draw the right conclusions from the heap of information gathered. The result is a fascinating documentary that deserves to be seen and discovered urgently.
The Phantom
Written and directed by Patrick Forbes
Produced by Mark Bentley
Cinematography : Tim Cragg
Edited by Claire Ferguson, Gregor Lyon
Music by Rob Manning
Production companies : Oxford Films, Grain Media, Rooks Nest Entertainment, Hitchley Investments, Great Point Media
Distributed by Greenwich Entertainment
Release date : June 14, 2021 (Tribeca), July 2, 2021 (United States)
Running time : 82 minutes
Seen on June 15, 2021 (Tribeca Festival Online Press Access)
Note de Mulder: