Batman : The Doom That Came To Gotham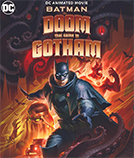 Original title:
Batman : The Doom That Came To Gotham
Director:
Christopher Berkeley, Sam Liu
Release:
Blu-ray
Running time:
86 minutes
Release date:
28 march 2023
Rating:
Based on the comic book series by Mike Mignola, Richard Pace and Troy Nixey, Batman: The Doom That Came To Gotham is a 1920s-based story in which explorer Bruce Wayne accidentally unleashes an ancient evil, hastening his return to Gotham City after a two-decade hiatus. Explorer Bruce Wayne accidentally releases an ancient evil, hastening his return to Gotham City after a two-decade hiatus. The logical, scientific Batman must battle Lovecraftian supernatural forces that threaten Gotham's very existence, while being aided and abetted by reimagined versions of his well-known allies and foes, including Green Arrow, Ra's al Ghul, Mr. Freeze, Killer Croc, Two-Face, James Gordon, and Bruce's beloved Wards. Get ready for a mystical and often terrifying Batman adventure like no other.
Mulder's Review
Adapting a comic book is a complex exercise in style as it is necessary to find the essence and emotional strength of the comic book universe or of a particular title and to know how to bring the characters to life to make them simply deeply human. While the live-action adaptations of the DC cinematic universe are often disappointing or fail to keep up with the Marvel Comics adaptations, it must be acknowledged that each of the DC comics animated feature films is an undeniable success.
It's as if the writers of each of these films have understood what a memorable adaptation should be and that DC Comics has enough great storylines to make strong and memorable films. Certainly Batman: The Doom That Came To Gotham marks a milestone in the animation of the superhero universe. It was necessary to dare to mix the universe of comics with that of the writings of H.P. Lovecraft and this film does not only reinvent the mythology of Batman but perfectly adapts the original work that has marked many readers of comics, including us, for many years.
Basically Batman: The Doom That Came to Gotham is a three-issue mini-series published from November 2000 to January 2001 by DC Comics. This story written by Mike Mignola and Richard Pace and illustrated by Troy Nixey (pencils) and Dennis Janke (inks) proposes an alternative mode and simply reinvents the Batman universe. Set in the 1920's, the story shows how mystical demonic forces after their unfortunate awakening take Gotham by storm. Batman is cornered by a supernatural force and has no choice but to go to the end of his true nature. If the proposed story intelligently mixes the myth of Cthulhu with that of Batman, we also find in this universe popular characters such as Green Arrow, The Penguin and Two-Face but proposed under an original angle. The title of the original comic book is a strong reference to a short story by H.P. Lovecraft, The Doom That Came to Sarnath (1920).
The directors Christopher Berkeley and Sam Liu deliver here simply one of the best animated films dedicated to Batman and which should surprise more than one spectator so much the vision we have of this character has been shaped by the cinema that it is the masterpiece of Tim Burton Batman (1989) or those of The Dark Kinght (2008) and the Batman (2022). The Dark Knight here seems to have lost its strength and with its age no longer has the same dexterity as the versions seen in the cinema. Playing on the Batman myth, Batman: The Doom That Came To Gotham is definitely one of the must-see animated films of this year. We can already bet that Batman fans will love it and will want to rediscover the comics of Mike Mignola whose character Hellboy is anchored in our collective memory and would have its place in such a film.
Batman : The Doom That Came To Gotham
Directed by Christopher Berkeley, Sam Liu
Produced by James Krieg, Sam Liu, Kimberly S. Moreau
Written by Jase Ricci
Starring David Giuntoli, Tati Gabrielle, David Dastmalchian, Christopher Gorham, Patrick Fabian, Jason Marsden, Jeffrey Combs, Gideon Adlon, Tim Russ, John DiMaggio, Emily O'Brien, Karan Brar, Brian George, Navid Negahban, Darin De Paul, Matthew Waterson, William Salyers
Music by Stefan L. Smith
Production companies: DC Entertainment, Warner Bros. Animation
Distributed by Warner Bros. Home Entertainment (United States)
Release date : March 28 2023 (United States), June 7 2023 (France)
Running time : 86 minutes
Seen on March 24, 2023
Mulder's Mark: