I will always see your faces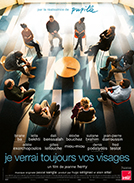 Original title:
Je verrai toujours vos visages
Director:
Jeanne Herry
Release:
Vod
Running time:
118 minutes
Release date:
Not communicated
Rating:
Since 2014, in France, Restorative Justice offers victims and perpetrators of crime to dialogue in secure devices, supervised by professionals and volunteers like Judith, Fanny or Michel. Nassim, Issa, and Thomas, convicted of robberies with violence, Grégoire, Nawelle and Sabine, victims of homejacking, robberies and snatching, but also Chloé, victim of incestuous rapes, are all involved in Restorative Justice measures. On their journey, there is anger and hope, silences and words, alliances and tears, realizations and regained confiance... And at the end of the road, sometimes, reparation...
Mulder's Review
We have been waiting with some impatience for the new film by director and screenwriter Jeanne Herry. After Elle l'adore (2014) and especially the remarkable Pupille (2018), we had to wait five years to discover her new film Je verrai toujours vos visages (I'll Always See Your Faces) and once again we were won over by the director's desire not to fall into the trap of a more popular French cinema that is often only there to give popular actors custom-made roles. As with her previous film, Jeanne Herry finds the perfect balance between fiction and documentary approach and shows once again that she is as good a director as she is a screenwriter.
Far from proposing a social drama too artificial to appear realistic, she shoots her film based on an excellent script she wrote and which shows that she has done extensive research to be close to the realization but also relies on a perfect casting in which she finds her favorite actors Élodie Bouchez, Gilles Lellouche and Miou-Miou (her mother in real life) that she had already directed in her previous film but also in the casting here in important roles Adèle Exarchopoulos (impressive of accuracy), Leïla Bekhti, Fred Testot and Dali Benssalah.
I Will Always See Your Faces is also original and exciting in the way it highlights restorative justice. This concept is an approach to justice in which one of the responses to a crime is to organize a meeting between victims and the perpetrator. The goal is for them to share their experience of what happened, discuss who was harmed by the crime and how, and create a consensus about what the offender can do to repair the harm caused by the crime. This may include money paid by the offender to the victim, apologies and other reparations, and other actions to make amends. We realize that these criminals are not all bad, but they are up against the wall and have lost the marker between what is right and wrong.
The director's approach is the best to highlight the exchanges between victims and prisoners and to make appear or reappear a part of humanity that has been lost. With the help of a cast that gives the best of itself with a special mention to Adèle Exarchopoulos who shows once again what an excellent actress she is in roles as difficult as they are. While French cinema rarely surprises us and tends to be commercial and too artificial to be realistic, I will always see your faces is certainly one of the best French films of this year and we can only encourage you to go and discover it in theaters as soon as it is released.
I will always see your faces
Written and directed by Jeanne Herry
Starring Adèle Exarchopoulos, Dali Benssalah, Leïla Bekhti, Élodie Bouchez, Suliane Brahim, Gilles Lellouche, Miou-Miou, Jean-Pierre Darroussin, Fred Testot, Denis Podalydès, Birane Ba, Nema Mercier, Roxane Barazzuol
Music by Pascal Sangla
Cinematography : Nicolas Loir
Edited by Francis Vesin
Production companies : Trésor Films, CHI-FOU-MI Productions
Distributed by StudioCanal (France)
Release date : March 29 2023 (France)
Running time : 118 minutes
Seen on March 06 2023 at the Forum des Images, room 300
Mulder's Mark: