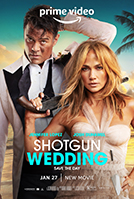 Original title:
Shotgun Warrior
Director:
Jason Moore
Release:
Prime Video
Running time:
100 minutes
Release date:
27 january 2023
Rating:
A couple decides to get married in an exotic location far from civilization, but this heavenly place is under the control of criminals. While protecting their respective families, the lovebirds rediscover why they wanted to get married in the first place.
Mulder's Review
Many American comedies have placed the celebration of life called marriage at the center of the story. This important passage of life in which we become true adults by marrying the person who fits perfectly with us has inspired is at the center of this new film. Director Jason Moore for his third film after Pitch perfect (2012) and Sisters (2015) delivers a mix of romantic comedy and action perfectly calibrated for the unseen duo Jennifer Lopez and Josh Duhamel.
Darcy (Jennifer Lopez) and Tom (Josh Duhamel) have been living together for a long time and have decided to take the plunge and get married in beautiful surroundings. They gather their families on a deserted island paradise to plan their wedding despite some doubts that seem to arise between Darcy and Tom. However, their party becomes a nightmare when a band of pirates take the guests hostage and leave the couple isolated and the only ones able to save their loved ones. Between quarrels of couples and important responsibilities to take, this couple camped by Jennifer Lopez and Josh Duhamel, Jennifer will understand the meaning of the expression until death do us part in this effective comedy and proposing some scenes worthy of the current Hollywood adventure films (one will think in particular of the recent The Lost City (2022))
Shotgun warrior takes a malicious pleasure to revisit the wedding movies with its numerous non-conformist characters and each one presenting clearly visible cracks. The director Jason Moore knew perfectly how to surround himself for his third film and we find in the supporting cast Jennifer Coolidge, Sônia Braga, Cheech Marin, D'Arcy Carden and especially Lenny Kravitz. The screenwriter Mark Hammer perfectly masters the many stereotypes of wedding films and tends to dynamite this genre by bringing a band of violent pirates attracted by the wealth of Darcy's father.
The result is a rhythmic film that can be seen with pleasure as the actress Jennifer Lopez, reveals an irrefutable comic potential. Her presence brings to this film an undeniable charm and shows us that this actress is as comfortable in dramas as here a romantic comedy spiced up enough to stand out from the many wedding films often repetitive and forgettable. Of course Shotgun Wedding will not be a model of the genre like the cult Four Weddings and a Funeral (1994) but it is entertaining and original enough to capture our attention.
Shotgun Wedding
Directed by Jason Moore
Written by Mark Hammer
Produced by Elaine Goldsmith-Thomas, Jennifer Lopez, Benny Medina, David Hoberman, Todd Lieberman
Starring Jennifer Lopez, Josh Duhamel, Jennifer Coolidge, Sônia Braga, Cheech Marin, D'Arcy Carden, Lenny Kravitz
Cinematography : Peter Deming
Edited by Doc Crotzer
Music by Pinar Toprak
Production companies Lionsgate, Mandeville Films, Belle Hope Productions, Nuyorican Productions
Distributed by Amazon Studios (United States and Sweden), Lionsgate (International)
Release dates : December 28, 2022 (Singapore & Indonesia), January 27, 2023 (Prime Video)
Running time : 100 minutes
Seen on January 17, 2023 (press screener)
Mulder's Mark: