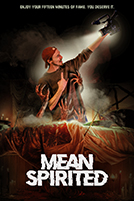 Original title:
Mean spirited
Director:
Jeff Ryan
Release:
Vod
Running time:
96 minutes
Release date:
Not communicated
Rating:
When two estranged friends reconnect, things buried deep within themselves are bound to surface. Aspiring vlogger Andrew Castellano, a.k.a. The Amazing Andy, heads to his former friend-turned-famous actor Bryce's house for the weekend. After receiving the invitation to Bryce's mountain cabin, Andy decides to bury the hatchet. Unfortunately, he's not quite himself anymore...
Mulder's Review
It might be too simplistic to see Mean Spirited as just another found-footage horror film. However, the script of Joe Adams and Jeff Ryan (also director) turns out to be really inventive and points the finger at the sphere of youtubers unable to see above their oversized ego and their appetite to have the biggest possible audience not only to attract many sponsors but also to become famous by doing nothing else than showing off in front of their camera and giving their point of view on the current world or making fun of things that annoy them. Certainly some youtubers have a real talent but these are really too rare and the rest hardly holds the attention of an adult and thoughtful audience.
The director centers his horrific comedy on Andy (Will Madden), a vlog host who hosts a show called Mean Spirited. Not very original, this show, which is meant to be humorous, seems to want to play pranks on certain people and to try out more or less stupid things. In the great days of this show Andy was hosting it with Bryce (Jeff Ryan) who decided to leave it to try his career in Hollywood. Andy and Bryce were childhood friends and this departure not only put an end to their friendship but also provoked Andy's anger; however, when years later Bryce invites Andy and his team to come for a weekend in his beautiful house, what was supposed to be a dream weekend will quickly become a real nightmare with demonic and unhealthy spirits.
Mean Spirited seems to be riding the success of found-footage films, of which The Blair With Project launched a wave of more or less successful films, always with the same desire to save money for maximum profitability on the part of American studios. Produced by Shaked Berenson (Slaxx SLAXX, Turbo Kid and Tales of Halloween), Mean Spirited is more successful and daring than most of the found-footage we have seen, notably with its rather successful special effects and a very disturbing atmosphere. The result is a rather successful film with a neat direction and above all a perfect atmosphere to celebrate Halloween in front of a film mixing comedy and horror.
Mean spirited
Directed by Jeff Ryan
Produced by Joe Adams, Jacob Andres Padilla
Written by Joe Adams, Jeff Ryan
With Michelle Veintimilla, Neville Archambault, Will Madden, Daniel Rashid, Jeff Ryan, Simon Val, Charlie Pollock, Maria DeCotis, Joe Adams, Owen Williams, Julia Hirsch, Will Martin
Music: Matt Russell
Director of photography: Kenneth Wales
Running time: 96 minutes
Seen on august 30th 2022 (press screener)
Rating : 3.5/5
Mulder's Mark: