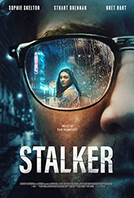 Original title:
Stalker
Director:
Steve Johnson
Release:
Vod
Running time:
93 minutes
Release date:
10 october 2022
Rating:
Rose Hepburn, a young actor working in horror films, returns to her empty hotel. Forced to use the old freight elevator, it abruptly stops on the twelfth floor, leaving her trapped by a strange stranger. With no cell phone signal and a storm approaching, tension mounts and suspicions are aroused when Rose discovers that the identity of the mysterious man is Daniel Reed, a cameraman from her latest film, who seems obsessed with her. As the elevator hangs precariously high, ready to plunge at any moment, hard truths and actions begin to unfold.
Mulder's Review
The movie set in or around an elevator seems to have established itself as a genre of its own. Whether it's the movie De Lift and its sequel directed by Dick Maas or Devil (2010), these rather well-crafted movies managed to bring out our claustrophobic feeling and our dread of being stuck in an elevator for long hours. Director Steve Johnson (Steve Johnson (2015), Convergence (2019)) delivers here a claustrophobic thriller.
What to do when you find yourself with strangers in an old elevator and there is no escape at first sight? The young actress Rose Hepburn (Sophie Skelton) in the middle of shooting a horror film, back in a seemingly empty hotel, finds herself stuck on the twelfth floor with a strange stranger. With no phone signal and no way to reach the hotel staff, tensions escalate when she discovers that the stranger stuck with her is Daniel Reed, a cameraman who seems obsessed with her. This man indeed seems to have followed her with unsavory attentions.
Certainly the presence of actress Sophie Skelton (Brianna Mackenzie in the Outlander series) makes this independent film a success. Playing a counter-role far from her character in the series that made her famous, she brings all her charm and talent to this film that is watched with interest. Rose Hepburn is self-centered and full of herself and seems to take great pleasure in belittling the man in front of her without recognizing him at first and then when she recognizes him the balance of power between the two seems to be different.
The script written by Chris Watt is well constructed enough to hold our attention. The inventive direction manages to hold our attention and the two unique actors of the film are really convincing and give to the film a real worrying atmosphere and the dramatic conclusion original enough for this film to hold our attention in spite of a budget that we feel really low. While the American cinema seems to play a game of unlimited overkill, it is always good to discover films like Stalker showing that it is still possible despite reduced means to hold all our attention.
Stalker
Directed by Steve Johnson
Produced by Stuart Brennan
Written by Chris Watt
Starring Sophie Skelton, Stuart Brennan, Bret Hart
Music by George Hinson
Cinematography : Simon Stolland
Edited by Mark Paul Wake
Distributed by Kaleidoscope Home Entertainment
Release Date : October 10,2022 (United States)
Running time : 93 minutes
Seen on August 30, 2022 (screener press)
Mulder's Mark: