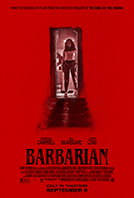 Original title:
Barbarian
Director:
Zach Cregger
Release:
Cinema
Running time:
102 minutes
Release date:
09 september 2022
Rating:
Traveling to Detroit for a job interview, Tess finds herself renting an Airbnb for the duration of her stay. But when she arrives late at night, she discovers that the house is already occupied and that a strange man named Keith is already staying there... In spite of the embarrassment, she decides resignedly to spend the night there, the hotels of the surroundings being full. But awakened in her sleep by mysterious sounds, Tess will embark in spite of herself in a series of terrifying discoveries...
Mulder's Review
Director and screenwriter Zach Cregger has certainly assimilated the essential rules of the horror thriller, but above all he has dusted them off to offer a film in three acts taking place essentially in the depths of a suburban Detroit house. While most of the recent horror films play the card of overkill, Zach Cregger prefers to go for the psychological horror thriller and offers us a real dive into an urban hell.
Tess Marshall (Georgina Campbell) is going to a job interview in Detroit and decides to rent a house on the internet to stay near it. Just when she thought she was arriving at a house that was empty of people, she comes face to face with a mysterious man named Keith Toshko (Bill Skarsgård) who has reserved the same house as her. As they decide to share the house, things become increasingly disturbing when screams are heard at night and the house has a cellar that proves to be both disturbing and dangerous. While Tess and Keith have to deal with a strange creature, the owner of the house, sitcom actor AJ Gilbride (Justin Long), who has just been fired from his show and is facing a harassment lawsuit, also returns to the house to sell it and get out of his financial troubles.
Barbarian would look like all these other home invasion movies if it wasn't for the way it is cut and the way it brings a different approach mixing comedy and violent thriller. There is a clear cut in the film like a sketch film in which the cursed house is at the center of the story. This undressing element proves to be successful here as the spectators will not know where the story wants to take them. The numerous twists and turns and an increasingly sinister atmosphere will take place until a denouement of extreme violence. Zach Cregger proves to be an excellent storyteller to deliver a low budget production but with a formidable efficiency.
The director Zach Cregger is not known in France but in the United States he is a member of the comedy troupe The Whitest Kids U' Know, based in New York in which we also find Trevor Moore and Sam Brown. He is also a supporting actor who has made a name for himself with popular films and series such as Wrecked. He has surrounded himself with a perfect cast in which we will enjoy Justin Long and the beautiful Georgina Campbell but also Bill Skarsgård (Pennywise in the two films It). Barbarian is certainly an excellent choice if you are looking for a movie to see or to see again on Halloween as it is a classic of the genre and above all a striking dive into hell.
Barbarian
Written and directed by Zach Cregger
Produced by Arnon Milchan, Roy Lee, Raphael Margules, J.D. Lifshitz
Starring Georgina Campbell, Bill Skarsgård, Justin Long
Cinematography : Zach Kuperstein
Edited by Joe Murphy
Music by Anna Drubich
Production companies : Regency Enterprises, Almost Never Films, Hammerstone Studios, BoulderLight Pictures
Vertigo Entertainment
Distributed by 20th Century Studios
Release dates : July 22, 2022 (SDCC), September 9, 2022 (United States), October 26, 2022 (France)
Running time : 102 minutes
Seen on October 26, 2022 (Disney+)
Mulder's Mark: