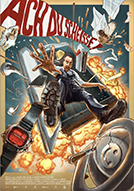 Original title:
Ach du Scheisse!
Director:
Lukas Rinker
Release:
Vod
Running time:
90 minutes
Release date:
Not communicated
Rating:
Architect Frank wakes up from his unconsciousness, crushed in a porta-potty. But it gets worse: in order not to be blown up during the imminent demolition, Frank has to fight his way out of his blue tomb in one hour. A race against time.
Mulder's Review
Discovered during the London Frightfest festival, the film Holy s**t! (Ach du Scheisse!) takes place in a unique place which is none other than a mobile toilet. It takes a certain amount of courage and imagination to place all the action of such a film in such a place, but the result, although outrageous, turns out to be a captivating film in which anything seems to happen.
Frank Lamm (Thomas Niehaus) is an architect like any other, yet his life will take an unusual trajectory when, after losing consciousness, he regains consciousness only to find himself crushed inside a portable toilet block on a construction site that is about to explode due to imminent demolition. As he desperately tries to escape, he begins to remember who put him in this precarious position and why. Will he escape in time to hold the delusional official accountable?
Director Lukas Rinker seems to have a total freedom of tone and despite the limited means, his direction is inventive and does not lack rhythm. While the main character Frank lamm must absolutely find a way to escape, he is not only confronted with punishments worthy of the film saga Saw but also shows an unfailing endurance.
Holy s**t! (Ach du Scheisse!) is meant to be a violent and crazy comedy so far from Sam Raimi's first films and the fact that it takes place almost in real time enforces our adherence to a violent and innovative genre film. Those who are claustrophobic will have a very bad time. While we could expect a film that would lose its originality and its rhythm, it is not the case. Some scenes of the film don't hesitate to go to the extreme and make this film one of the most crazy of this edition of Frightfest.
Holy s**t! (Ach du Scheisse!)
Written and directed by Lukas Rinker
Produced by Neopol Film, Tonio Kellner, Jakob Zapf
Starring Gedeon Burkhard, Micaela Schäfer, Friederike Kempter, Rodney Charles, Uke Bosse, Olga von Luckwald, Thomas Niehaus, Yuki Iwamoto, Björn Meyer
Music by Andreas Lucas
Cinematography Knut Adass
Edited by Bastian Ahrens
Running time: 90 minutes
Seen on August 29, 2022 (press screener)
Mulder's Mark: