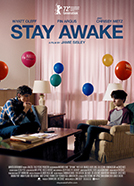 Original title:
Stay Awake
Director:
Jamie Sisley
Release:
Cinema
Running time:
94 minutes
Release date:
Not communicated
Rating:
Seventeen-year-old Ethan and his nineteen-year-old brother Derek are doing their best to get through the tough teenage years while caring for their drug-addicted mother.
Mulder's Review
Stay awake discovered as part of the Deauville American Film Festival marks Jamie Sisley's directorial and screenwriting debut if we disregard these three short films (Love in 4 Parts (2013), Stay Awake (2015) and We're All Gonna Die (2016)) and his documentary Farewell Ferris Wheel (2016). Loosely based on his teenage years and especially the fact that he and his brother had to struggle with their mother's addiction to drugs. Far from being a maudlin drama to the extremes this first film proves to be the promising debut of a committed director who conceives of cinema as a means of expelling his inner demons and revealing a face of present-day America far from its many clichés conveyed by American cinema.
Seventeen-year-old Ethan (Wyatt Ole) and his nineteen-year-old brother Derek (Fin Argus) not only have to deal with their own personal difficulties, but also with a drug-addicted mother who every night lies dormant and has to be taken back to the hospital to be monitored and cured. Ethan and Derek's life has become a real hell due to their mother's sickly unconsciousness, unable to understand the mail she is sending to her entourage. Forced to commit her to a center, Ethan and Derek's life becomes not only financially difficult but also prevents them from realizing their own dream. The bond between the two brothers is tested daily to the point that they wonder what they really need to do to get out of the grip of such a mother.
Director Jamie Sisley was able to rely on the presence of these two lead actors who are perfect in their roles and paint a realistic portrait of middle-class America with a rare authenticity. Without really trying to constantly move the audience, the director delivers an interesting chronicle on this society addicted to drugs and whose future without a happy ending does not leave them much hope. The director draws the portrait of a youth who is looking for himself like Derek who seems to be jealous that his ex-girlfriend is dating one of his close friends or Ethan who is trying to break into the movie business by passing audtions for multiple local commercials.
Far from being a film about drug addiction, Stay Awake prefers to focus on its consequences on the loved ones, the family who are around these people not realizing their condition and not trying to get out of it. The fact of not having a dream life leads some people to artificial paradises such as drugs, alcohol and this film illustrates perfectly this malaise of a society in search of a meaning to life. Certainly, this is the promising debut of a new director whose next film we will wait for with a certain impatience.
Stay Awake
Written and directed by Jamie Sisley
Produced by Eric Shultz, Shrihari Sathe
Starring Wyatt Oleff, Fin Argus, Albert Jones, Cree Cicchino, Quinn McColgan, Chrissy Metz
Cinematography : Alejandro Mejia
Edited by Alan Canant
Music by Ben Sollee
Production companies : MarVista Entertainment, Dialectic, Relic Pictures, Whitewater Films
Release dates : February 12, 2022 (Berlinale), September 6, 2022 (48th Deauville American Film Festival)
Running time : 94 minutes
Seen on September 6, 2022 at the Deauville international center
Mulder's Mark: