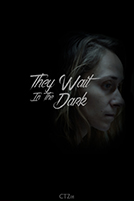 Original title:
They wait in the dark
Director:
Patrick Rea
Release:
Cinema
Running time:
85 minutes
Release date:
Not communicated
Rating:
What does our past mean for our future? Can we break the cycle of violence? Amy and her adopted son Adrian flee their abusive ex-girlfriend, Judith, and take refuge on her family's abandoned farm. Soon, a supernatural force from Amy's dark past awakens and begins to haunt Adrian. With Judith's vengeance in pursuit, Amy and Adrian find themselves locked in a showdown between external and internal threats.
Mulder's Review
The writer and director Patrick Rea has managed to make a name for himself with his numerous horror films, more or less successful, among which we can mention Nailbiter (2013), Monster X (2017), I am Lisa (2020). Even if these are not totally successful films, they still show the look of a seasoned director who seems to take great pleasure in playing with the nerves of the audience. His new film They wait in the dark proves to be not only his most successful to date but also a paranoid thriller about domestic violence.
From the very first scene, the spectators enter directly into the action. We discover a young mother, Amy (Sarah McGuire) and her young son Adrian (Patrick McGee) in a gas station. They are on the run because Amy is trying to escape the clutches of her abusive partner, Judith (Laurie Catherine Winkel). This worried mother and her son take refuge in her deceased father's abandoned house in his hometown. Yet this home, which looks so inviting, holds real secrets and will turn out to be evil. The events of the past will have some significance for Amy and Adrian as they not only have to face an evil creature but also escape the danger of Judith once and for all.
Director and writer Patrick Rea manages to make the most of his limited resources to make the most of his unique setting to stage a violent thriller about domestic violence. A large part of the film is based on the relationship between a mother and her son and the anguishing climate that emerges is certainly one of the strong points of this film. Composed in three distinct acts and based on a rather slow tempo this film is nevertheless watched with pleasure as the director reveals himself to have a real gift to create a real empathy of the spectators towards the main characters of the film and especially to propose some perfectly brought jump scares.
While many films presented at the London festival Frihgtfest did not manage to hold our attention, we must admit that this one is certainly among the best of the selection. We suspect that after many unnoticed films of his director Patrick Rea, this one should allow him to be noticed and we hope he will leave the independent films with very low budgets to approach more commercial and visible works, especially since horror films are currently experiencing a real craze of the public as the excellent Smile of Parker Finn showed so well.
They wait in the dark
Written and directed by Patrick Rea
Produced by Hanuman Brown-Eagle, Jake Jackson, Ashley Mayer, Patrick Rea
Starring Sarah McGuire, Laurie Catherine Winkel, Meagan Flynn, Patrick McGee
Music by Ben Benefield
Cinematography : Hanuman Brown-Eagle
Running time : 85 minutes
Seen on August 31, 2022 (press screener)
Mulder's Mark: