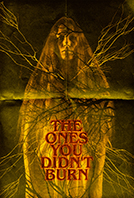 Original title:
The ones you didn't burn
Director:
Elise Finnerty
Release:
Vod
Running time:
70 minutes
Release date:
15 october 2022
Rating:
Nathan and Mirra are by no means close siblings. But the death of their father forces them to return to the old family farm to sell the land. There, Nathan has nightmares of a woman rising from the sea. He experiences the same fear as his father before his death. As Nathan falls back into the addiction that caused the friction with his sister, Mirra gets closer to the people the family exploited, revealing a centuries-old secret about the original owners of the land.
Mulder's Review
"The Ones You Didn't Burn is like Rosemary's Baby, an elevated, character driven story which successfully blurs the line between supernatural and psychological horror. It's a feminist folk horror about ancestral revenge which marks a promising debut by writer, director, producer, actor Elise Finnerty and producer, actor Estelle Girard Parks" - Jinga's CEO Julian Richards
The ones you didn't burn was definitely one of our favorites of this edition of the London Frightfest. Among the many independent films we could discover during this festival, the first film of the writer and director Elise Finnerty offers us an original story and succeeds in creating a real disturbing environment.
We discover Nathan (Nathan Wallace) and Mirra (Jenna Sander) who are brother and sister and who return to the family farm after the suicide of their father. While they hardly speak to each other, they will have to learn to appreciate each other again and face their personal demons. Nathan is a former drug addict who seems to be drawn back to his baser instincts, and reuniting with his old friend Greg (Samuel Dunning) isn't going to help him move on and leave his junkie past behind. Moreover, recurring nightmares linked to the past of this family farm will not help Nathan to face his personal demons. Mirra will soon understand that their father leaves behind a family secret related to this farm that could have been acquired illegally and that belonged to witches.
Far from being a traditional horror film, the director and screenwriter Elise Finnerty preferred to plant a real scary atmosphere in a realistic setting and thus create a disturbing film based on a solid cast of which she gave herself the leading female role. It is undeniable that this striking story and the twilight beauty of certain images of the film make that certain shots remain in memory after having seen it. Certainly, Elise Finnerty is an immersive director whose first film is an undeniable success.
The ones you didn't burn
Written and directed by Elise Finnerty
Produced by Nicolas Alvo, Brett Phillips
Starring Elise Finnerty, Samuel Dunning, Estelle Girard Parks,Jenna Rose Sander, Nathan Wallace.
Music by Daniel Reguera
Cinematography : Brett Phillips
Edited by Nicolas Alvo, Brett Phillips
Running times : 70 minutes
Seen on August 31, 2022 (screener press)
Mulder's Mark: