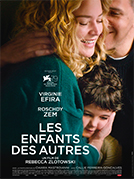 Original title:
Les enfants des autres
Director:
Rebecca Zlotowski
Release:
Vod
Running time:
104 minutes
Release date:
Not communicated
Rating:
Rachel is 40 years old and has no children. She loves her life: her high school students, her friends, her exes, her guitar lessons. When she falls in love with Ali, she becomes attached to Leila, her 4 year old daughter. She tucks her in, cares for her, and loves her as her own. But loving other people's children is a risk to take...
Mulder's Review
It would perhaps be simplistic to begin writing this review by saying how quintessentially great an actress Virginie Efira is. Each of her new films proves to be the judicious choice of an actress clearly more attracted by the quality of a scenario and the meeting with inspired directors rather than a series of commercial films as soon as seen, as soon as forgotten. Not backing down from any difficulty, this great actress has gone from being a television host to one of the most important actresses Franco-Belgian current. Her films are screened in international festivals such as Cannes or more recently Venice for this new film by the writer and director Rebecca Zlotowski (Belle épine (2010), Grand Central (2013), Planetarium (2016), Une fille facile (2019)).
Rachel (Virginie Efira) is a high school teacher. At 40, she still has no children and is in a loving relationship with Ali (Roschdy Zem), a recently divorced man who shares custody of his daughter, Leila, 4, with his ex-wife. Rachel loves this child as if she were her own daughter. But when Ali's ex-wife tries to give her a second chance, Rachel's life is shattered. To bring such a family drama to life, it took not only excellent actors but also an inspired writer and director to make this story realistic. Inspired by her own personal life, Rebecca Zlotowski delivers a bitter chronicle in which Virginie Efira's boundless talent is visible in every scene.
Behind the tragedy we watch helplessly, we can only take a stand for Rachel and go through with her this feeling of being pushed away when all she wants is to have her own family and, like her sister, to get pregnant by the man she loves. There is no happy ending here, except for the fact that she will meet one of her students again years later.
Other People's Children
Written and directed by Rebecca Zlotowski
Produced by Frédéric Jouve, Marie Lecoq
Starring Virginie Efira, Roschdy Zem, Chiara Mastroianni, Callie Ferreira-Goncalves
Cinematography : George Lechaptois
Edited by Géraldine Mangenot
Music by ROB
Production companies : Les Films Velvet, France 3 Cinéma
Distributed by Ad Vitam (France)
Release dates : 4 September 2022 (Venice), 21 September 2022 (France)
Running time : 104 minutes
Seen on September 13, 2022 at Club 13
Mulder's Mark: