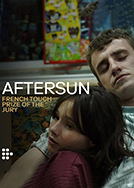 Original title:
Aftersun
Director:
Charlotte Wells
Release:
Cinema
Running time:
98 minutes
Release date:
21 october 2022
Rating:
In the late 1990s, eleven-year-old Sophie and her father Calum spend their vacations at a club on the Turkish coast. They swim, play pool and enjoy each other's company. Calum becomes the best version of himself when he is with Sophie. Sophie, on the other hand, believes that anything is possible with him. When Sophie is alone, she makes new friends and experiences new things. While enjoying every moment together, a sense of melancholy and mystery sometimes permeates Calum's behavior. Twenty years later, Sophie's memories take on new meaning as she tries to reconcile the father she once knew with the man she never knew.
Mulder's Review
Screened in official competition at the 48th edition of the Deauville Film Festival the film Aftersun was awarded the Grand Prize and the Critics Jury Prize. For her first film as writer and director Charlotte Wells shows a real maturity in her direction and offers an engaging film with several levels of reading and especially making us discover a young actress of whom we have not finished hearing about Frankie Corio. After winning the Jury Prize at the Cannes Film Festival and the International Critics' Week, Aftersun not only received excellent critical acclaim, but above all, it has established itself as a dramatic chronicle of adolescence that is both sensual and moving.
Aftersun is a reflection on forgiveness and on past mistakes that cannot be changed and that we must learn to live with.The young director Charlotte Wells delivers here the portrait of a young teenager and her difficult relationship with her father. The action takes place in the late 1990s. We discover Sophie (Frankie Corio), eleven years old, and her father Calum (Paul Mescal) who are on vacation at a club on the Turkish coast. Behind the insouciance of an ordinary vacation, a family drama emerges between a father who is struggling to rebound in his professional and personal life after his divorce and his young daughter who wants to discover new experiences and make new friends. The ambiguous behavior of the father with his daughter leaves doubts about the real relationship between the two. The result is a persistent feeling of melancholy and especially the future of a father who seems to have disappeared when the action takes place many years later.
Other times, other habits and the director finds the charm of the late 90s in which the telephone does not occupy the very important place of means of communication and the possibility of making many photos and videos in all simplicity. While personal video cameras are the only way to record one's vacation memories, the director uses this element to capture surprising behaviors and question the evil that plagues Calum. Through her simplicity and naturalistic filmmaking, Charlotte Wells captures moments of a life and proves to be an excellent storyteller.
Aftersun
Written and directed by Charlotte Wells
Produced by Adele Romanski, Amy Jackson, Barry Jenkins & Mark Ceryak
Starring Paul Mescal, Frankie Corio, Celia Rowlson-Hall
Music by Oliver Coates
Cinematography : Gregory Oke
Edited by Blair McClendon
Production companies : BBC Films, Pastel, Tango Entertainment, Screen Scotland
Distributed by MUBI (France), A24 (United States)
Release dates : 21 May 2022 (Cannes), 21 October 2022 (United States)
Running time : 98 minutes
Seen on September 4, 2022 at the Deauville International Centre
Mulder's Mark: