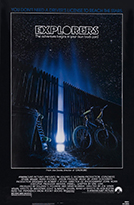 Original title:
Explorer
Director:
Joe Dante
Release:
Cinema
Running time:
109 minutes
Release date:
12 july 1985
Rating:
A science fiction enthusiast, young Ben Crandall wants to meet aliens more than anything else in the world. One night, the boy has a strange dream about a spaceship. The next day, he decides to build this flying device with his friend Wolgang, a budding genius. Once the craft is built, the apprentice astronauts set off to discover space, unaware of the welcome they will receive on other planets.
Mulder's Review
Joe Dante is certainly one of the directors who left his indelible mark on the 80s and 90s with films that have become cult favorites: The Howling (1981), Gremlins (1984), Innerspace (1987), The Burbs (1989), Gremlins 2: The New Batch (1990) and Small Soldiers (1998). Unfortunately, Explorers could have been one of these timeless classics if it had been able to rely on a scenario well constructed enough to hold our attention at the time of its release. Seeing it again now allows us to realize that despite the poor reception it received from the press and the public at the time of its release, Joe Dante's direction has influenced many young directors and shows us that the 80's marked a real renewal for American cinema.
Ben Crandall (Ethan Hawke) is a young high school student who spends much of his free time watching science fiction movies, playing video games and reading comic books. His affinity for fantasy leads him to have recurring dreams about alien technology that can transport him into space. One of his two best friends, Wolfgang Muller (River Phoenix), a science buff, manages to create a working spaceship and they test the spaceship they have created with their friend Darren Woods (Jason Presson). When, after several attempts, they manage to fly into space, they will not only meet surprising aliens and American TV show buffs.
Just after the worldwide success of Gremlins, it is easy to understand the will of Paramount Studios to collaborate with Joe Dante (unfortunately without the support of Steven Spielberg) to make a science fiction film capable of standing up to another blockbuster of the year 1985 Back to the Future (produced by Amblin Studios and co-created by Steven Spielberg). Unfortunately, as much as Joe Dante's direction is inspired, the script written by Eric Luke is frustrating and totally lacks new ideas.
It's impossible not to see in this film a version of The Goonies in space, but it's not really able to take off and to give a real credibility to the aliens. Of course, the film relies on excellent young actors who will succeed in making a name for themselves in Hollywood (Ethan Hawke, River Phoenix) but the screenplay cruelly lacks the touch of a real scriptwriter like Chris Columbus for Gremlins and The Goonies.
Explorers
Directed by Joe Dante
Written by Eric Luke
Produced by David Bombyk, Edward S. Feldman
Starring Ethan Hawke, River Phoenix, Jason Presson
Cinematography : John Hora
Edited by Tina Hirsch
Music by Jerry Goldsmith
Production company : Paramount Pictures
Distributed by Paramount Pictures
Release date : July 12, 1985 (United States), December 18, 1985 (France)
Running time : 109 minutes
Viewed on January 16, 2022
Mulder's Mark: