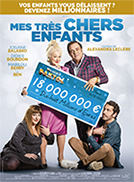 Original title:
Mes très chers enfants
Director:
Alexandra Leclère
Release:
Vod
Running time:
95 minutes
Release date:
Not communicated
Rating:
Chantal and Christian live a peaceful retirement. But since their children Sandrine and Stéphane have left the nest, they don't give much news anymore. The opportunities to get together as a family are becoming increasingly rare... When the children announce that they will not come to celebrate Christmas, it is too much for Chantal and Christian! They decide to make them believe that they have hit the jackpot. A desperate attempt to make them come back and a lie that could cost them dearly...
Mulder's Review
French commercial cinema never ceases to irritate us as it turns out to be a showcase for outdated actors who seem to be more invested in filling their bank accounts than in giving life to realistic and endearing characters. While Didier Bourdon has lost his aura as a cult actor linked to his presence in the comics Les inconnus and Josiane Balasko seems to have the same syndrome with the troupe of Bronzés (Bronzés 3 amis pour la vie was certainly a big commercial success but also one of the worst films of this troupe and of director Patrice Leconte). My dearest children marks the third collaboration between director Alexandra Leclère and actor Didier Bourdon after Le grand partage (2015), Garde alternée (2017) and the second between the director and Josiane Balasko after Maman (2012).
In our current society, some parents see their children become adults not only forget them but especially be present only for household tasks such as washing and ironing laundry, pick up their grandchildren at school while their children work. This theme seems to have been the trigger for Alexandra Leclère's new film. She wanted to show the relationship between retired parents and their grown-up children, and above all how her parents can ensure that the strong bond between them and their children can regain all its strength.
We discover Chantal (Josiane Balasko) and Christian (Didier Bourdon) who, after a hectic working life, are now retired and sadly see that their children Sandrine (Marilou Berry) and Stéphane (Ben) have forgotten them and have no time for them. Except for sending a delivery man to drop off his line at his parents' house, Stéphane spends his time partying and trying to build his professional life. His sister Sandrine has become the switchboard operator for her dentist friend Régis (Estéban). When Sandrine and Stéphane tell their parents Chantal and Christian, the latter decide to take revenge by making them believe that they have won millions in a game at the Française des Jeux. However, the latter were not going to suspect that this would cost them dearly in every sense of the word.
The idea of showing the many excesses of those who win millions at the lottery and other euromillions could have been an excellent basis if the scenario had been much more ferocious in the same way that the actor, writer and director Fabrice Eboué had recently treated the case of our consumer society in Barbaque. There emerges here an unpleasant will not to shock the elderly spectators who can find themselves in the treatment made here of retired people. In the same way, the film seems to show that the education of these two children really leaves something to be desired. The attitude of the characters Sandrine and Stéphane quickly becomes annoying and makes My Dearest Children a disappointing and disjointed comedy.
My Dearest Children
Written and directed by Alexandra Leclère
Produced by Olivier P. Khan
Starring Josiane Balasko, Didier Bourdon, Marilou Berry, Stéphane Blanc, Laurent Stocker, Estéban, Joséphine de Meaux, Lise Lamétrie
Music by Philippe Rombi
Cinematography : Jean-Marc Fabre
Edited by Florent Vassault
Production companies : UGC, France 2 Cinéma
Distributed by UGC Distribution (France)
Release date : 15 December 2021 (France)
Running time : 95 minutes
Seen on December 16, 2021 at Gaumont Disney Village, Room 4 place A18
Mulder's Mark: