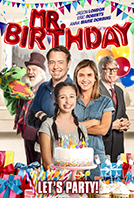 Original title:
Mr Birthday
Director:
Dan Hunter
Release:
Vod
Running time:
93 minutes
Release date:
17 december 2021
Rating:
While working his maintenance job at an upscale hotel, Barry encounters the mysterious Mr. Jay. He introduces Barry to the International Birthday Network, an agency that helps children across the globe suffering from miserable birthdays.
Mulder's Review
If you like original American family comedies, then Dan Hunter's (Agent Toby Barks) new film is certainly a good surprise, as it benefits from a wacky scenario but especially from the presence of two good actors, Jason London and Eric Roberts, who seem to take a real pleasure in giving life to their characters. Far from the Hollywood comedies that seem to be made in the same mold, Mr. Birthday shows once again that the American independent cinema can afford to leave an artificial comfort zone and address issues such as the difficulties of integration of youth, single-parent families, but also and especially the other side of the American scene and the cult of birthdays that can be a real hell for young children who find themselves alone and unable to integrate.
The main plot revolves around a struggling single father Barry (Jason London) who is faced with a challenge: his daughter has a birthday party and no one comes, she is very disappointed and he realizes that there is a secret organization of people who can make a disappointed child's birthday better when they need it, called the International Birthday Network, special for lack of a better word. Barry will have to find a way to combine his job as a janitor and as an IBN employee. He meets the mysterious Mr. Jay (Fred Sullivan), who lives in the building where he works and lives with his daughter.
Mr. Birthday is still a low budget independent film but it gains in freedom and allows us to find the actor Eric Roberts in an interesting role in which he shows that he is as comfortable in a dramatic comedy as in an action movie like Expendables. In the same way, we can easily understand the will of the comedian Jason London to follow the footsteps of Jim Carrey and to invest himself in an original comedy that will make us spend a pleasant moment. We can easily feel the inspiration of this film in the old dramatic comedies of Frank Capra and especially It's a Wonderful Life (1946). The happy ending is perfectly brought and will make this film appeal to a young audience as much as to an adult one.
Of course, Mr Birthday is not perfect but the actors seem to enjoy playing and the presence of the actress Anna Marie Dobbins in one of the main roles easily reinforces our adhesion to this film and we can only advise you to discover it on VOD from December 17th.
Mr Birthday
Directed by Dan Hunter
Produced by Tom DeNucci
Written by Matthew Luke Tucci
Starring Jason London, Eric Roberts
Music by Matthew Luke Tucci
Cinematography: J. Antonio Figueroa
Edited by Cole Davidson, Matthew Luke Tucci
Distributed by VMI Worldwide
Release date : December 17, 2021 (USA)
Running time : 93 minutes
Seen on December 13, 2021 (Screener press)
Mulder's Mark: