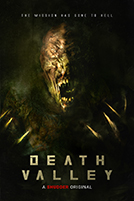 Original title:
Death Valley
Director:
Matthew Ninaber
Release:
Shudder
Running time:
91 minutes
Release date:
09 december 2021
Rating:
When a secret experiment goes horribly wrong, bioengineer Dr. Chloe (Kaster) becomes trapped inside a secret underground facility. With only 24 hours before a fatal decontamination protocol destroys the entire lab, Chloe deploys an emergency distress signal before a terrifying creature (Matthew Ninaber) of unknown origin can consume what's left of her. Alerted by the distress beacon, battle-weary guns for hire, Marshall (Mitchell) and Beckett (Jeremy Ninaber) are commissioned to carry out a covert operation to extract the imprisoned scientist. Upon deployment, the team is ambushed by another heavily armed militia hell-bent on finding a way into the compound themselves. Severely outnumbered, the mercenaries find entry to the bunker through an unsealed emergency hatch only to find themselves in a horrific fight for survival. With time and ammunition running out, the team must locate Dr. Chloe while also navigating the underground maze of corridors before they're hunted down one by one.
Mulder's Review
We will never say again how important cinema is in our current society and how a good horror movie can be a good way to exorcise one's own demons. In this sense Death Valley is an excellent surprise as the fourth film of director Matthew Ninaber (Last run (2012), Exraction day (2014), Transference: escape the dark (2020)) shows that with limited means, it is possible to make effective and gripping films that have nothing to envy the recent Hollywood productions. Shudder is not mistaken in buying the rights to this film and offering it on December 9th.
The scenario of the film is effective, if not original, and after a very successful introductory scene that places the spectators directly in a dangerous environment in which a terrifying creature prowls. We follow the journey of mercenaries who have nothing to lose and who are hired to save a bio-engineer imprisoned in a cold war bunker. As soon as they enter the eerie facility, they must fight for their lives when they are attacked by an unknown and deadly creature.
The director and screenwriter Matthew Ninaber who is also an actor (he played the Psycho goreman in the film of the same name) knows his classics perfectly and reveals here that he is also a video game enthusiast as his film is a successful cross between the universe of Resident but also John Carpenter's films like The Thing. The result is a film that knows perfectly how to take advantage of the settings it uses and finds the right rhythm to offer a monster movie that proves to be as hard-hitting as it is bleeding.
It's impossible not to see in this film the vision of a director who is passionate about video games and horror films, and in particular Ridley Scott's Alien, in the way the mercenaries have to join forces and venture into disturbing corridors where a creature can strike at any moment. It is no coincidence that one of the two main characters is a strong woman who seems to be willing to do anything to stay alive and find a way out of this underground hell.
Certainly Death Valley deserves to be discovered and establishes Matthew Ninaber as a promising director whose next film is eagerly awaited.
Death Valley
Written and Directed by Matthew Ninaber
Produced by Chad Archibald, Cody Calahan, Matthew Ninaber
Starring Jeremy Ninaber , Ethan Mitchell, Kristen Kaster, Melissa Joy Boerger, Matt Daciw, Shemora Davy, Jeremy Dueck, Jacob Fortin, Jonah Fortin
Music by Sean Croley
Cinematography : Brent Tremain
Edited by Matthew Ninaber
Distributed by Shudder
Release date : December 9 2021 (USA)
Running time : 91 minutes
Seen on December 1 2021 (screener press)
Mulder's Mark: