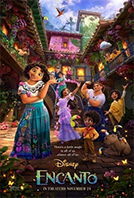 Running time:
99 minutes
Director:
Byron Howard, Jared Bush
Release:
Cinema
Release date:
24 november 2021
Rating:
In a mysterious place nestled deep in the mountains of Colombia, the fantastic Madrigal family lives in an enchanted house in a city full of life, a wonderful place called Encanto. Encanto has endowed each of the family's children with magical abilities ranging from superhuman strength to healing powers. Only Mirabel was not given any special gift. But when the Encanto's magic is threatened, the only ordinary child in this extraordinary family may prove to be their only hope...
Mulder's Review
At the end of each year, there is an animated film event signed by Disney and the 2021 vintage proves to be excellent because far from trying to stay in predefined rails, we feel here a real will of the scriptwriters Jared Bush and Charise Castro Smith to propose an original story and especially a crazy musical able to make you beat the rhythm while discovering Encanto. This sixtieth animated film from Walt Disney Studios Motion Pictures benefits from songs written especially for the occasion by Lin-Manuel Miranda (the musical Hamilton).
Directed by Byron Howard and Jared Bush, Encanto centers on a young teenager Mirabel Madrigal who is frustrated at being the only member of her family without a superpower. The Madrigal family lives hidden in the mountains of Colombia in a charming place called the Encanto. The magic of the Encanto has endowed each child in the family with a unique gift - every child except Mirabel. When the magic begins to fade Mirabel must embark on a quest in which multiple dangers will test her, and not away from her family home but through its very foundations and deepest recesses.
It is interesting to see that Disney is not only adapting world famous tales into feature films, but is also in a constant search to reinvent itself and maintain its supremacy as a leader in terms of animation. The film's focus is all the more interesting as it does not place at the center of the story yet another perfect princess, nor a hero literally bursting the screen, but rather a young teenager in the midst of an identity crisis who must live with a family with superpowers, whether it be a strength worthy of a Marvel superhero, the ability to communicate with animals, the gift of healing or transforming into anyone. The film's many interpretations also reinforce our support whether you are a young viewer or an adult who has kept your childlike soul, Encanto is a universal story that celebrates not only family but also growing up in an environment where you are loved whether you have magical powers or not.
The film also takes an interesting look at Colombia, a country in which a portion of the country's population has had to move over the past five decades to find a peaceful place to live. The first scenes of the film make it clear that this Madrigal family has gone through some difficult times before finding a welcoming and magically created home. Likewise, the fact that the film was born out of a partnership between composer Lin-Manuel Miranda and one of the most innovative American studios today means that Encanto is not just another musical or timeless Disney masterpiece, but a true hymn to self-improvement. The numerous songs in the film are perfectly brought to life and sound just right without slowing down the rhythm of the film in any way.
Of course the French version that we were able to discover is neat but we can only encourage you to discover this film in its original version as the vocal cast adds a whole new dimension to the film. By incorporating two songs written in Spanish Colombia, Mi Encanto and Dos Oruguitas, the film pays tribute to Colombia too often stigmatized as a global platform for drug trafficking. This film is part of Disney's undeniable desire to diversify its characters, as it did recently in Raya and the Last Dragon and Moana. This adds an important change of scenery and above all allows the young spectators to open up to the world music and to want to learn new things.
Encanto is definitely the must-see family entertainment of this end of the year.
Encanto
Directed by Byron Howard, Jared Bush
Screenplay by Jared Bush, Charise Castro Smith
Story by Jared Bush, Charise Castro Smith, Byron Howard, Jason Hand, Nancy Kruse, Lin-Manuel Miranda
Produced by Clark Spencer, Yvett Merino
Starring Stephanie Beatriz, John Leguizamo, María Cecilia Botero, Diane Guerrero, Jessica Darrow, Angie Cepeda, Wilmer Valderrama
Cinematography : Nathan Warner (layout), Alessandro Jacomini (lighting)
Edited by Jeremy Milton
Music by Germaine Franco
Production companies : Walt Disney Pictures, Walt Disney Animation Studios
Distributed by Walt Disney Studios Motion Pictures
Release date : November 3, 2021 (El Capitan Theatre), November 24, 2021 (United States, France)
Running time : 99 minutes
Seen on November 19, 2021 at Le Grand Rex
Mulder's Mark:
Marianne Velma's Review
No Christmas without Disney. The 2021 vintage, the aptly named Encanto (Enchantment or charm in Spanish) does not hide its marvelous intentions for long. After the icy and bluish expanses of the Snow Queen, the company with big ears takes us to sunny Colombia to meet the Madrigal family. A tribe like no other since each one has a special gift conferred by the house in which they have lived for several generations. All of them... except the adorable Mirabel!
A magical house, a mystery, a collection of shimmering colors, songs worthy of a musical made in Bogota... it doesn't take much to let your imagination wander. Encanto claims loud and clear its magical potential. This Casita, whose gestures defy the laws of weightlessness, imposes herself as a character in her own right. From the smallest colourful canal tile to the main turret, not forgetting the floating parquet floor which has never been so well named, everything in the villa dances to the rhythm of the melodies created by Lin Manuel Miranda (Tik Tik Boom).
Beyond its bewitching character, Encanto also intends to tell us the story of a family with its joys and sorrows. This exceptional sibling group makes the inhabitants of the village dream, but at the same time it constitutes a great responsibility for each of its members. Mirabel in particular, since deprived of her gift, she feels, even more than the others, obliged to prove herself. This duality proves to be the emotional core of Encanto. It's a pity that the scriptwriters don't fully confront this conflict, preferring to play the reconciliation card as soon as the first cracks in the house (and the family) are exposed.
Nevertheless, this sixtieth feature film, stamped "Disney Classic", is undeniably in the great tradition of the Studio. In particular, thanks to its ability to create a universe that children and adults alike can make their own in the blink of an eye. So much so that when we leave the theater, we find ourselves imagining the fabulous unexplored rooms of the Casita and wondering what ours would be like...
Encanto
Directed by Byron Howard, Jared Bush
Screenplay by Jared Bush, Charise Castro Smith
Story by Jared Bush, Charise Castro Smith, Byron Howard, Jason Hand, Nancy Kruse, Lin-Manuel Miranda
Produced by Clark Spencer, Yvett Merino
Starring Stephanie Beatriz, John Leguizamo, María Cecilia Botero, Diane Guerrero, Jessica Darrow, Angie Cepeda, Wilmer Valderrama
Cinematography : Nathan Warner (layout), Alessandro Jacomini (lighting)
Edited by Jeremy Milton
Music by Germaine Franco
Production companies : Walt Disney Pictures, Walt Disney Animation Studios
Distributed by Walt Disney Studios Motion Pictures
Release date : November 3, 2021 (El Capitan Theatre), November 24, 2021 (United States, France)
Running time : 99 minutes
Seen on November 19, 2021 at Le Grand Rex
Marianne Velma's Mark: