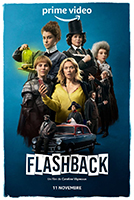 Running time:
90 minutes
Director:
Caroline Vigneaux
Release:
Prime Video
Release date:
11 november 2021
Rating:
The story of Charlie, a gifted, cynical and narcissistic lawyer, who, after winning a new trial, meets Hubert, a non-conformist VTC driver who will take her on an unexpected journey through the corridors of time! During this journey that will take her from prehistory to the French Revolution, she will cross paths with those who fought for women's rights and witness historical events that she should never have forgotten. To get out of this time loop, she will have to understand her role as a woman in society and learn to help those whose voices are not heard, even today.
Mulder's Review
The trailer of Flashback let us expect a fantastic French comedy without much originality and yet the result proves to be an excellent surprise as the comedian Caroline Vigneaux signs here a successful first film both in terms of direction, scenario and supported by a careful casting. The previous French comedies offered by Prime Video were certainly watchable but were more like TV movies with a well-crafted cast. So Prime Video had to find its rhythm to offer mastered comedies and Flashback produced by Légende productions is certainly a sparkling comedy that shows us the importance of women in our society and whatever the time.
The scriptwriters Caroline Vigneaux and Yaël Langmann have understood the important bases of a fantastic comedy taking place in different periods. We meet Charlie (Caroline Vigneaux), a gifted and narcissistic lawyer who only sees her career and all the possible ways to become the best in her profession. After winning a trial that was going to be difficult, she will meet a strange VTC driver, Hubert (Issa Doumbia) who will take her on an adventure in several time periods and try to make her understand the importance of women in our history whether it is Joan of Arc, George Sand, Marie Curie, and other important women. Charlie will thus cross the road of courageous women who fought for the right of women. Charlie will not only learn to recognize his mistakes but also understand the importance of his role in defending the female cause.
Flashback is not just a comedy full of good feelings and designed to please the majority of people, it is also a film that leads the audience to understand the evolution of our society and the high price that many women have paid to defend just and universal causes. The presence of Caroline Vigneaux, whose three shows won us over (Once upon a time, Caroline Vigneaux leaves the dress, Caroline Vigneaux crunches the apple), proves to be an undeniable added value here, as the dialogues work wonderfully and the direction for a first film proves to be successful. We can also appreciate the casting, which includes Suzanne Clément, Sylvie Testud, Sophia Aram, Emy LTR, Gad Elmaleh, Lannick Gautry, Florent Peyre, Bruno Solo, Lison Daniel, Issa Doumbia and Julien Pestel in important supporting roles.
French cinema has rarely ventured into fantasy comedy and Flashback shows that this genre has a bright future, provided it is based on
Flashback shows that this genre has a bright future, provided that it is based on mastered scenarios, an engaging cast and directors who are committed and whose involvement is easily felt. A piece of advice: go see this fantastic comedy and look forward to the next film with and by Caroline Vigneaux.
Flashback
Directed by Caroline Vigneaux
Produced by Alain Goldman
Written by Caroline Vigneaux, Yaël Langmann
Starring Caroline Vigneaux, Suzanne Clément, Sylvie Testud, Sophia Aram, Emy LTR, Gad Elmaleh, Lannick Gautry, Florent Peyre, Bruno Solo, Lison Daniel, Issa Doumbia, Julien Pestel
Music by Maxime Desprez, Michaël Tordjman
Cinematography : Vincent Mathias
Edited by Frédérique Olszak
Production companies : Légende productions
Distributed by Amazon Prime
Release date : November 11 2021 (World)
Running time : 90 minutes
Seen on November 11 2021 on Prime video
Mulder's Mark:
GraeLeigh's Review
Not everyone knows her (yet), but Caroline Vigneaux from Nantes is making her way in the world of humor. Already behind the writing of her shows (Il était une fée in 2009, Caroline Vigneaux quitte la robe in 2010 and Caroline Vigneaux croque la pomme since 2018 which earned her a nomination at the Molières 2019), she co-wrote with Yaël Langmann the script of Flashback, her first film as a director (and lead role).
From the trailer, one could expect a humorous film without much depth. But to take Flashback at face value would be a mistake as the devil is in the details. Because if it treats with humor the subject of women's rights, the women (with more or less imaginary acts) that she will meet are, for the most part, part of our history.
In a series of more or less equal scenes, whether in terms of length or quality of dialogue, Charlie will take us through the maze of time, a bit like Godefroy de Montmirail in Les Visiteurs (1993). The difference is that she will cross the eras and not remain fixed in a point of the future like the character played by Jean Reno.
Epochs that are not highlighted in the same way, an interesting (but not unprecedented) way to differentiate them. We can also underline the care taken with the sets and accessories of each era. Of course, this is not a historical film, so it would not pass an in-depth examination, but in this case, it is enough to situate the action in time.
Of course, due to its short duration (90 minutes), Flashback does not dwell on certain details and this is often a pity because we do not always understand why this historical character is more highlighted than another. Of course, the iconic Gisele Halimi (Zeiza Taïeb by her real name) is mentioned several times and this is only fair.
Personally, it is Charlie's lack of culture that I have the most trouble with. In this profession that is hers (and that I know from my own experience), how could I not know the main lines of the life of those who have done so much for women's rights? Was it an intention to make Charlie unsympathetic, to start from a character at the opposite of the feminist? We don't know where this pushy side comes from, a detail I would have liked to know. After all, her character is a forty year old woman, not a senior citizen who would have the excuse of age to have forgotten the history, even of the XXth century.
As for the interpretation, it is Caroline Vigneaux who is in every scene. Showing a beautiful energy (we must not forget that she is also a director) she fills the space with a communicative energy. Alongside her, the cast is uneven in its interpretation. If recognized actors like Bruno Solo are perfect, we have more reservations for members of the new generation of laughter (Peyre, Doumbia to name a few).
In terms of narrative, Flashback has the intelligence to not limit itself to an opposition men vs. women. Here it is the woman who is at the center of the story, the man is never indicted. After all, isn't each of his behaviors a reflection of the times in which he lives?
A necessary film for our time and that we would have appreciated longer as the subject is so topical and there is material to feed it ... however its end and its post-credits scene (like some superheroic blockbusters) can leave hope for a sequel. Which way should it go? It's hard to say as the two tracks are attractive ...
Flashback
Directed by Caroline Vigneaux
Produced by Alain Goldman
Written by Caroline Vigneaux, Yaël Langmann
Starring Caroline Vigneaux, Suzanne Clément, Sylvie Testud, Sophia Aram, Emy LTR, Gad Elmaleh, Lannick Gautry, Florent Peyre, Bruno Solo, Lison Daniel, Issa Doumbia, Julien Pestel
Music by Maxime Desprez, Michaël Tordjman
Cinematography : Vincent Mathias
Edited by Frédérique Olszak
Production companies : Légende productions
Distributed by Amazon Prime
Release date : November 11 2021 (World)
Running time : 90 minutes
Seen on November 11 2021 on Prime video
GraeLeigh's Mark: