The Bodins in Thailand (Les Bodins en thailande)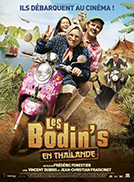 Running time:
98 minutes
Director:
Frédéric Forestier
Release:
Cinema
Release date:
Not communicated
Rating:
Maria Bodin, a cunning and authoritarian 87-year-old farmer, has to face a new ordeal: her big ninny son, Christian, 50, has lost his taste for life. Following the advice of the psychiatrist, who recommends a change of scenery, the mother Bodin resigns herself to breaking her piggy bank to pay for her son's vacation... in Thailand! When the mother and the son Bodin fly away, for the first time, more than ten thousand kilometers from their native land, the shock is enormous: hotel club, tourists, white sand beaches and other exotic massages, they clearly don't have the instructions ... not easy to get away from the country! The Bodin's then embark on a rocky road-movie across the whole country, with only their audacity, their heart and their good peasant sense for luggage.
Mulder's Review
Was it really necessary to adapt the rather successful universe of the Bodin's to the cinema? The caustic humor of this 87 year old farm woman and her 50 year old son had already given rise to shows that were a real success from 1995 to 2015. With two completely unnoticed films Marriage at the Bodin's (2008) and Amélie in the Land of the Bodin's (2010) both directed by Éric Le Roch, this third installment is once again a failed comedy that lacks the presence of good scriptwriters and a director who is not willing to fulfill the specifications of a distributor who continues to not want to show his films to the online press (this film shows that their choice is wise).
The film starts however with an excellent idea that would have allowed us not to waste time for more than an hour and a half. Indeed, we can easily understand Christian Bodin's will to hang himself in order to get rid of his omnipresent mother and his intelligence. Unfortunately for the spectators, his suicide fails and here is the old farmer Maria Bodin and this one left in direction of Thailand with their meager savings. As what to listen to the advice of a psychiatrist (Nicolas Marié perfect as usual) who advises them a real change of scenery to recharge their batteries. The contrast is total between these two outspoken peasants and life in Thailand, whether in a hotel with its swimming pools and sea nearby or in a real Thai village isolated and with few means to live.
The film The Bodin's in Thailand had however good assets to make it a delirious comedy starting with the striking dialogues which are the sign of this comic duo. But is it enough to make a real movie. In this case, we have the impression that the distributor SND offers us a film that is clearly more designed to be broadcast on television than to be discovered in theaters. We can easily understand the will of the distributor to offer a film in the vein of Very Bad Trip (The Hangover) but it should have offered a more sustained rhythm and more striking scenes.
We can feel that the scenario is running out of steam and that the director prefers to put forward the beauty of the natural landscapes rather than this rocky and very disappointing adventure. After having co-directed The Ball and Chain (2002), Asterix at the Olympic Games (2008), Colt 45 (2014) and directed The Godfathers (2005), My Chick (2017), we could easily expect a better movie from the director Frederic Forestier and our disappointment is all the greater.
The bodins in Thailand
Directed by Frédéric Forestier
Produced by Claude Cyndecki
Written by Frédéric Forestier, Vincent Dubois, Jean-Christian Fraiscinet
Starring Vincent Dubois, Jean-Christian Fraiscinet, Bella Boonsang, Nicolas Marié, Fanny Dubois, Alexandre Rokhamm, Lucas Fraiscinet, Camille Dubois
Music by Oliver Dax, Dominique Gauriaud, Gan Guo, Charles Olins
Cinematography : Stéphane Le Parc
Edited by Sandro Lavezzi
Production companies : Cheyenne Productions
Distributed by SND (France)
Release date : November 17, 2021 (France)
Running time : 98 minutes
Seen on November 14, 2021 at Gaumont Disney Village, Room 12 seat A19
Mulder's Mark: