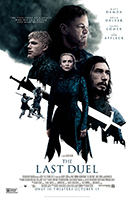 Running time:
152 minutes
Director:
Ridley Scott
Release:
Cinema
Release date:
15 october 2021
Rating:
Based on true events, the film uncovers ancient speculation about the last known judicial duel in France - also known as the Judgment of God - between Jean de Carrouges and Jacques Le Gris, two friends who became bitter rivals over time. Carrouges is a respected knight, known for his bravery and skill on the battlefield. Le Gris is a Norman squire whose intelligence and eloquence make him one of the most admired nobles at court. When Carrouges' wife Marguerite is violently assaulted by Le Gris - an accusation he denies - she refuses to remain silent, not hesitating to denounce her assailant and impose herself in an act of bravery and defiance that puts her life at risk. The ensuing showdown - a grueling duel to the death - places the destiny of each of them in the hands of God.
Juliette's Review
The Last Duel opens with a chivalric tournament scene that pits Jean de Carrouges (Matt Damon) against Jacques Le Gris (Adam Driver). The former challenges the latter to a fight to the death, as his wife, Marguerite de Carrouges (Jodie Comer), accuses him of rape. Inspired by real facts, the film refers to one of the last French judicial duels. Until the end of the 14th century, any man had the right to invoke divine justice in case of perjury. The outcome of the fight was to reveal which of the two protagonists had spoken the truth, in accordance with God's will.
After his first film, The Duelists, released in 1977, Ridley Scott returns with a new duel story. We find the same accumulation of fight scenes. But here, the Napoleonic costumes and the thin moustaches have been replaced by the clash of armor, long hair, stained with blood, mud and sweat. The director chose the Dordogne as his shooting location. He shot several scenes at the castles of Beynac, Fénelon in Sainte-Mondane and at the bastide of Monpazier. For his medieval epic, Ridley Scott opted for a rather classical direction.
The originality of Last Duel lies in its division into three parts. As screenwriters, Ben Affleck, Matt Damon and Nicole Holofcener, have chosen to tell this story through the different points of view of the characters in the case. First that of Jean, then that of Jacques and finally that of Marguerite. This process, which inevitably leads to a certain weariness, nevertheless allows us to better understand the psychology of the protagonists.
In particular that of Marguerite (brilliantly played by Jodie Comer), the real heroine of the film. Disregarding her condition as a woman and the risks she runs, she cries out for the truth and will stop at nothing to have her status as a victim recognized. A subject that unfortunately still resonates in our time. One thing is certain, Me Too has been through it all and the female gaze is slowly taking its rightful place.
The Last Duel
Directed by Ridley Scott
Screenplay by Nicole Holofcener, Ben Affleck, Matt Damon
Based on The Last Duel: A True Story of Trial by Combat in Medieval France by Eric Jager
Produced by Ridley Scott, Kevin J. Walsh, Jennifer Fox, Nicole Holofcener, Matt Damon, Ben Affleck
Starring Matt Damon, Adam Driver, Jodie Comer, Ben Affleck
Cinematography : Dariusz Wolski
Edited by Claire Simpson
Music by Harry Gregson-Williams
Production companies : Scott Free Productions, Pearl Street Films, TSG Entertainment
Distributed by 20th Century Studios (United States), Walt Disney Company France (France)
Release date : September 10, 2021 (Venice), October 15, 2021 (United States), October 13, 2021 (France)
Running time : 152 minutes
Seen on September 20, 2021 at Publicis Cinémas
Juliette's Mark:
Mulder's Review
Ridley Scott is undoubtedly a virtuoso director who has left his mark on current cinema and given birth to many timeless masterpieces. Far from indulging in the easy way, each of his films reflects the true vision of an author who is in tune with his time. Whether it is science fiction films (Alien (1979), Blade runner (1982), Prometheus (2012), Alone on Mars (The Martian) (2015), Alien: Covenant (2017)), action films (Black Rain (1989), Equal Weapons (GI Jane) (1997)) or adventure films with great spectacle (Gladiator (2000), Robin Hood (2010), Exodus: Gods and Kings (2014)) or contemporary dramas (Thelma and Louise (Thelma & Louise) (1991), each of his films shows the importance to him of women in our society and the influence they have on men.
His twenty-sixth film The Last Duel (The Last Duel) is certainly not an imposing blockbuster able to compete with his Robin Hood and does not have an epic breath worthy of these great films but nevertheless undeniably proves to be exciting and above all perfectly in the era of time and in the claim of women's rights and their will to break their silence in a world dominated by men. Carried by movements like #MeToo, these justified claims have not only drawn attention to women victims of rape but have also shown the despicable side of wealthy people allowing themselves to abuse their dominant position and respecting nothing. The last duel is based on a rather experimental concept of seeing the same past actions from three different angles. Each one corresponding to a distinct part of the film.
While The Last Duel could have been an action movie set in the middle of the Hundred Years' War, with Homeric battle scenes and a Hollywood cast with Matt Damon, Adam Driver, Jodie Comer and Ben Affleck, the main plot of the film is instead oriented by a class struggle and a woman claiming her femininity and being raped while her husband is away at war and the inhabitants of her house (her husband's mother and the employees are absent). Reflecting on a barbaric era that relegated women to mere decorative adornment, where battered or raped women could not speak out and demand justice, the exemplary courage of Marguerite de Carrouges (Jodie Comer, once again perfect), the last duel is a truly intense cinematic experience that reminds us that social inequalities and many injustices have always existed.
The last duel undeniably bears witness to the omnipresent power of men, to a justice system controlled by powerful and influential people, but above all to a lesson in the courage of a woman willing to risk her life to fight for the truth. We can understand the will of the inseparable screenwriters Ben Affleck and Matt Damon, supported here by Nicole Holofcener, to adapt Eric Jager's novel on the big screen and inspired by real facts. By pitting two men who were once friends against each other, Jean de Carrouges (Matt Damon) and Jacques Le Gris (Adam Driver), the film shows us the flaws of a dangerous era in which the wealthy took advantage of their dominant position. While Jean de Carrouges is the son of an influential person and has to marry a young woman in order to have offspring, his money worries lead him to go to the battlefield where his heroic courage will make him a knight. The film follows his journey and especially his opposition to Jacques Le Gris, an erudite Norman squire who has fallen in love with Jean de Carrouges' wife despite the fact that she feels nothing for him and remains a faithful wife to her husband. When Marguerite de Carrouges is attacked by Jacques Le Gris, she will not only have to prove her good faith but also send her husband into the arena to confront Jacques Le Gris.
Despite its long running time of almost two and a half hours, The Last Duel has an excellent rhythm and by offering three different points of view shows us the difficulty of perceiving reality. The great care given to the historical reconstruction shows that the director Ridley Scott has lost nothing of his gift for storytelling and directing actors. The remarkable performances of Jodie Comer, Matt Damon, Adam Driver, Ben Affleck make The Last Duel an excellent film and above all show us once again that cinema is not only a simple means of entertainment but also an important vector for awakening consciousness and showing us that we must learn from our past to build a more just future.
The Last Duel
Directed by Ridley Scott
Screenplay by Nicole Holofcener, Ben Affleck, Matt Damon
Based on The Last Duel: A True Story of Trial by Combat in Medieval France by Eric Jager
Produced by Ridley Scott, Kevin J. Walsh, Jennifer Fox, Nicole Holofcener, Matt Damon, Ben Affleck
Starring Matt Damon, Adam Driver, Jodie Comer, Ben Affleck
Cinematography : Dariusz Wolski
Edited by Claire Simpson
Music by Harry Gregson-Williams
Production companies : Scott Free Productions, Pearl Street Films, TSG Entertainment
Distributed by 20th Century Studios (United States), Walt Disney Company France (France)
Release date : September 10, 2021 (Venice), October 15, 2021 (United States), October 13, 2021 (France)
Running time : 152 minutes
Seen on October 13, 2021 at Gaumont Disney Village, Room 16 place A19
Mulder's Mark: