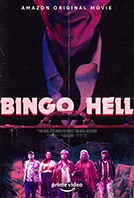 Running time:
85 minutes
Director:
Gigi Saul Guerrero
Release:
Prime Video
Release date:
01 october 2021
Rating:
When an evil force threatens the residents of an underprivileged neighborhood, one courageous senior citizen tries to stop it in Bingo Hell, an original and evil horror film. When 60-year-old Lupita, a neighborhood activist, discovers that her beloved bingo hall has been bought out by a mysterious businessman named Mr. Big, she gathers her senior friends to fight the enigmatic entrepreneur. But when her longtime neighbors start turning up dead under gruesome circumstances, Lupita suddenly discovers that gentrification is the least of her problems. Something terrifying has taken hold in the quiet neighborhood of Oak Springs, and with every new scream of Bingo! another victim falls prey to the demonic presence. As the game's prize pools grow and the body count continues to rise, Lupita must face the frightening realization that this is truly a game of winners.
Mulder's Review
Discovered at Fantastic Fest, the fifth installment in the Welcome to the Blumhouse anthology series, Gigi Saul Guerrero's Bingo Hell easily proves to be an undeniable success in mixing social drama, horror film and dark comedy. It's interesting to see that the partnership between Blumhouse and Prime Video has given birth to a cycle of low budget but quite effective and well directed horror films. In this sense, the film Bingo Hell has a rather classic plot but it is easily made up for by a very efficient visual treatment and revealing a real look at our current society focused essentially on the search for success and on the fact of building one's own family.
The social inequalities in the United States are seen more and more by the emergence of underprivileged neighborhoods like the one in Oak Springs shown in this film. Bingo Hell wants to be both a horror film based on horrific elements but also a creature that seems to take a lot of pleasure in killing people to feed his black drawings. Faced with this sinister creature threatening the elderly from a disadvantaged background, a woman will stand up. Lupita (Adriana Barraza) is a sexagenarian and neighborhood activist. She discovers a new bingo hall in her neighborhood that has taken the place of an old one and is run by a businessman named Mr. Big (Richard Brake) whose bizarre behavior will also prove to be dangerous. Lupita will realize that something is wrong in this gambling hall and sees her friends being killed one after the other. With each new scream of Bingo, another victim falls prey to the evil presence that has settled in the neighborhood.
Bingo Hell will remind some of the film Needful Things (1993) inspired by a Stephen King novel. Horrific elements will gradually take on more and more importance and especially show that Mr. Big takes a real pleasure in tormenting the elderly of the neighborhood. The director and co-writer thus dynamizes the current rules of horror films featuring young adults rather than pensioners from a disadvantaged background. The result is a horror film that can be followed with a certain pleasure even if the end is rather rushed and would have deserved a better treatment.
Bingo Hell
Directed by Gigi Saul Guerrero
Screenplay by Gigi Saul Guerrero, Shane McKenzie, Perry Blackshear
Produced by Jason Blum, Jeremy Gold, Marci Wiseman, Raynor Shima
Starring L. Scott Caldwell, Adriana Barraza, Joshua Caleb Johnson
Cinematography : Byron Werner
Edited by Andrew Wesman
Production companies : Blumhouse Television, Luchagore Productions
Distributed by Amazon Studios
Release date : September 24, 2021 (Fantastic Fest), October 1, 2021 (World)
Running time : 85 minutes
Seen on September 29, 2021(Prime Video press screener)
Mulder's Mark: