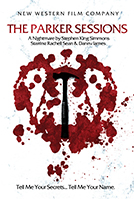 Original title:
The Parker sessions
Director:
Stephen Simmons
Release:
Cinema
Running time:
72 minutes
Release date:
Not communicated
Rating:
A woman suffering from night terrors and plagued by a troubled past makes a series of appointments with a psychologist. But will she find the answers she is looking for because the demons that haunt her could be evil or something that doesn't exist? It's not a monster or a ghost, but a dark shadow watching her from afar, her footsteps pacing in front of her house trying to break a window...
Mulder's Review
"It's not a person, or a monster. Or a ghost. It is a shadow. Everything from its footsteps pacing in front of my house to the noise it makes trying to break my window. Whatever it is, it just wants to come in."
Discovered as part of the Frightfest festival the first film written and directed by Stephen Simmons reveals a true vision of a director who drew on his own night terrors and sleepwalking as inspiration for his script and finding the best possible approach to bring his film to life. Shot in sumptuous black and white and composed of four acts, The Parker sessions will leave no one unmoved.
Parker (Rachell Sean) is a troubled young woman with a disturbing past. She decides to consult a counselor about her night terrors and see what can be done about them. The film follows the evolution of this young woman who seems to hide a difficult past and troubles linked to her past.
The director Stephen Simmons brings an original approach to mental disorders and especially seems to draw his inspiration from directors like David Lynch. Alternating images of the past and the present, the film quickly becomes a character study and the young actress Rachell Sean is totally invested in her role and this can be felt throughout this strong, trying and perfectly mastered film.
Far from the big Hollywood productions, it is good to discover independent productions in which the raw talent can compensate for a lack of important budget. The result is a very sober production that relies essentially on dialogues that keep us on the edge of our seats and bring us back to our own intimate fears.
The Parkers sessions
Written and directed by Stephen Simmons
Produced by Danny James, Rachell Sean, Matt Tucker
Starring Bill Gillane, Danny James, Rachell Sean.
Music by Stephen Simmons
Cinematography : David Komatar
Edited by Stephen Simmons
Release date : August 27, 2021 (Frightfest)
Running time : 72 minutes
Seen on August 28, 2021 (Frightfest press screener)
Mulder's Mark: