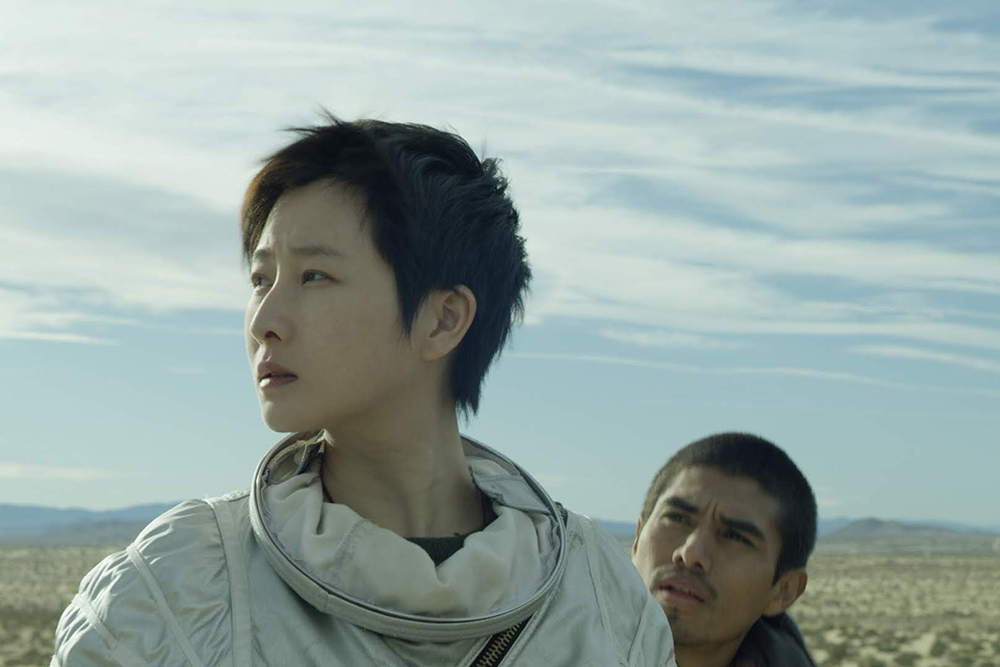 This year, the American film festival of Deauville has allowed us to discover an excellent selection of independent films, even if it didn't bring many American stars. We are living things was one of the first films discovered this year during the festival and surely one of the most successful too. Co-written and directed by Antonio Tibaldi, We are living things is built as a thriller and then turns into a road movie and finally a social drama. The mixture of very successful genres gives this film a very special aura and above all allows us to discover an excellent director who is really able to surprise us and to approach a theme that is close to our hearts, that of the presence or not of extraterrestrials and of the numerous unidentified objects in Nevada.
Solomon (Jorge Antonio Guerrero) works in a recycling shop in New York and is an illegal Mexican immigrant living in a garbage dump and obsessed by the question of aliens. He believes his mother was abducted by them and is trying to find her. His quest for proof of them led him to create a radio telescope to intercept communications from outer space. When his path crosses that of a young Asian woman, Chuyao (Xingchen Lyu), who is also illegal and employed in a nail salon, he tries to protect her even if it means kidnapping her and leaving for Nevada with her. Chuyao shares with him a common interest in the search for evidence of extraterrestrials.
Director Antonio Tibaldi finds the perfect tone to tell his story and can rely on solid performances and natural settings as beautiful as they are scary. The particularly careful photography of the film reveals all the beauty of Arizona with its arid lands and its people having decided to settle there in a precarious way in order to attend a possible meeting of the third kind.
The film is all the more successful as it leaves everyone to think about the existence or not of other proofs of life and their passage among us. This question has not only been the source of many films and blockbusters more or less successful. The fascination of many people like Solomon and Chuyao here can also be explained by a desire to believe in paranormal events and thus hide the truth. Perhaps Solomon's mother was simply killed while trying to cross the American border.
The director Antonio Tibaldi also seems to focus more on a society in which minorities are not always well integrated and especially on illegal immigration which can lead to all possible abuses as shown by the sordid fate that could await Chuyao (we won't say more). In a society in which it is better to have a good salary and to remain transparent, any belief or research going out of the normality seems to be banished. Yet the fact that Solomon is obsessed with proof of the existence of aliens is his own business and he should be able to spend his free time as he wishes.
Certainly the open ending of We Are Living Things also proves to be very interesting as it is rooted in reality and not plunging the film into the realm of science fiction. The director prefers to focus on his two main characters that nothing connects them to our society and that hope to find elsewhere a way to stay free and happy together.
We are living things
Directed by Antonio Tibaldi
Produced by Fan He, Andrew K. Li, Alex Lora & Antonio Tibaldi
Written by Antonio Tibaldi & Alex Lora
Starring Jorge Antonio Guerrero, Xingchen Lyu, Zao Wang, O-Lan Jones, Paul Cooper
Music by Idem
Cinematography : Luca Bigazzi
Edited by Alex Lora
Production companies : EnMaze Pictures Inc
Running time : 94 minutes
Seen on September 5, 2021 at the Centre International de Deauville
Mulder's Mark: