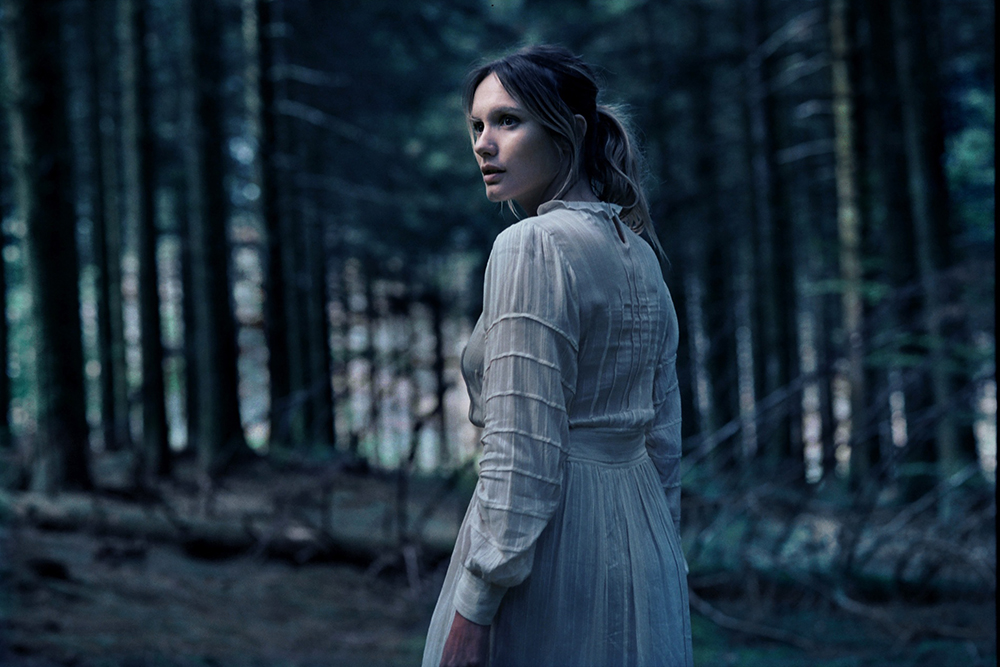 Last year the American film festival of Deauville allowed us to discover the film Teddy by the Boukerma brothers, a modern approach of the werewolf myth in which the excellent actor Anthony Bajon saw his character become a bloodthirsty monster in spite of himself. A mix of comedy and horror, the film was quite original and successful but could not make us forget the excellent An American Werewolf in London (1981) and The Holwing (1981). This year, the distributor The Jokers films was back with another fantastic film much more accomplished and especially benefiting from a perfect casting and scenes as beautiful as strong. By revisiting the theme of the ogre, Arnaud Malherbe's first film easily stands out as an excellent film with careful photography and especially benefiting from the presence of the actress Ana Girardot in the female lead.
The scenario of Arnaud Malherbe and Sebastian Sepulveda proves to be sufficiently mastered to hold all our attention and especially revisits the theme of the Ogre. This legendary monster that appears in many tales and books as a gigantic being that feeds on children is at the very center of this story taking place in a small isolated village in the Morvan region of France. The setting of this town, which is located near a forest, creates a truly disturbing atmosphere and above all captures our attention.
We discover Chloe (Ana Girardot) and her young son Jules (Giovani Pucci). They seem to want to escape a difficult past and try to rebuild themselves psychologically. Chloé is a school teacher who seems to have suffered from a violent husband. As she begins her new life in this village, she will meet many people, more or less friendly, whether they are hunters or a doctor with a surprising behavior called Matthieu (Samuel Joy). While this last one and Chloe will get closer, Jules seems to see with a rather hostile eye the arrival of this man in the life of her mother. The mood turns ominous again when many animals are found dead in the forest and a creature seems to be lurking around Chloe and Jules' house. We won't say anything more about the plot of this first film which takes a malicious pleasure to create an oppressive climate and to give a large part to the psychological evolution of the main characters.
Ogre proves to be even more successful by its will to revisit and adapt a tale to our current time when these seem to have no place in a modern society and turned towards the future and the new means of communication. Like pawns on a chessboard, the scenario shows that appearances are often deceptive and that children have a very interesting view of our society. By opposing a young child suffering from deafness and only able to listen thanks to a device and disturbing noises, Ogre fascinates and terrorizes us by this village in which a curse seems to haunt the main inhabitants.
While genre films in the United States tend to show too much and rely on more or less successful special effects, Ogre prefers to let the spectators let their imagination speak. The great care given to the image and the sound once again highlights the importance for complicated scenes to have an excellent storyboarder able to retranscribe the director's ideas into images. Certainly, the film gains here in efficiency and despite a budget that we feel rather reduced succeeds easily to make us jump on our armchair and to take in affection this mother and her son facing a dangerous creature.
Ogre
Directed by Arnaud Malherbe
Produced by Laurent Lavolé, Marc-Antoine Robert & Xavier Rigault
Written by Arnaud Malherbe & Sebastian Sepulveda
Starring Ana Girardot, Giovanni Pucci, Samuel Jouy
Music by Flemming Nordkrog
Cinematography : Pénélope Pourriat
Edited by Floriane Allier
Storyboard : Eric Gandois
Production companies : Gloria films, 2.4.7 Films
Distributed by The Jokers Films (France)
Running time : 103 minutes
Release date : March 9, 2022 (France)
Seen on September 4, 2021 at the Centre International de Deauville
Seen on September 4, 2021 at the Morny club (Deauville)
Mulder's Mark: