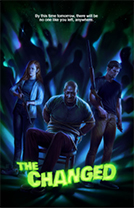 Running time:
85 minutes
Director:
Michael Mongillo
Release:
Cinema
Release date:
Not communicated
Rating:
Something has taken over the hearts and minds of the town's population. At first, Mac, Kim and Jane try to convince themselves that they are wrong. But they're not. An alien intelligence has merged with their neighbor Bill (horror icon Tony Todd), sparking a desperate struggle for human survival. Soon, the entire city is overwhelmed by the inhuman horror of the change, but it doesn't end there! The trio crosses every conceivable boundary to save themselves from the horde of body snatchers that gather outside their suburban home.
Mulder's Review
Discovered during the British Frightfest festival, the new film by writer and director Michael Mongillo (Diane (2017)) is definitely one of the very good surprises of this festival. For all those who grew up with the Twilight Zone series and horror classics such as Invasion of the Body Snatchers (1978), The changed will remind them of that very special atmosphere. The changed comes at an important moment of our evolution in which a monial pandemic has changed our world forever and has shown us that the human race that thought itself safe must face events that are beyond it and especially the vindictive side of our environment.
We won't know what happened and how this invasion really began, but it is undeniable that an alien force has taken over most of the human race. A group of ordinary people, survivors, gather in a suburban house to fight against the imposters who have replaced their families, friends and neighbors. Michael Mongillo's particularly careful direction succeeds in creating a truly disturbing atmosphere in which the human species as we know it has disappeared and is replaced by beings with the same human appearance but different.
The rather clever script of Michael Mongillo and Matt Giannini shows that it is possible to make horror films without special effects but only by creating a disturbing atmosphere reminding in this case the cult film of George A. Romero's cult film, Night of the Living Dead. Almost the entire film takes place in a house where survivors are trying to fend off an invasion of people. The changed's success is all the stronger because the transformation of the few survivors is the result of a simple kiss or the proof of a form of love. Without any bloodshed or outrageous scenes, The Changed manages to captivate and fascinate us.
The Changed
Directed by Michael Mongillo
Produced by Eloise Asmuth, Taylor Warren, Greg White, Jesse Alford
Written by Michael Mongillo, Matt Giannini
Starring Tony Todd, Clare Foley, Erik Bloomquist, Nina Wisner, Jason Alan Smith
Music by Len Miller
Cinematography : Rj LaRussa
Edited by Taylor Warren
Release date : August 27, 2021 (Frightfest)
Running time : 85 minutes
Seen on August 29, 2021 (Frighfest)
Mulder's Mark: