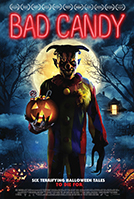 Running time:
100 minutes
Director:
Scott B. Hansen, Desiree Connell
Release:
Cinema
Release date:
Not communicated
Rating:
On Psychotronic FM's annual Halloween show, reenactment radio DJs Chilly Billy (Corey Taylor, lead singer of Slipknot) and Paul (Zach Galligan of Gremlins) tell the gory, twisted stories of the supernatural from years past. In this small town, the end is grim for most, but will a few good souls survive the craziest of Halloween events?
Mulder's Review
If we were asked what is our favorite annual holiday, we would not answer Christmas but rather Halloween, as this holiday represents in our eyes one of the most important days of the year, and is linked to excellent films such as Halloween (1978) by John Carpenter, Trick'r or treat (2009) and Gremlins (1984). Bad Candy is likely to join this list of must-see Halloween movies and features a cast including Zach Galligan (Gremlins, Gremlins 2: The New Batch). In the same way that Trick'r or treat was composed of several stories that intertwined, Bad Candy is composed of several stories and brings its dose of scares despite a lower budget and a less luxurious cast.
On Halloween night in New Salem, radio DJs Chilly Billy (Corey Taylor) and Paul (Zach Galligan) tell a twisted anthology of terrifying local myths that lead to a spooky end for the small town's residents. The stories told here are easily reminiscent of the two Creepshow films with its share of monsters of all kinds, bloodthirsty serial killers. The co-director and screenwriter Desiree Connell knew how to propose here stories perfectly calibrated to bring their share of macabre spirits, scenes of violence perfectly calibrated but also to propose simply an engaging and successful film.
In the first story we discover a young teenager Kyra (Riley Sutton) who is fed up with her stepfather's violent acts and decides to end it all thanks to her gift for giving life to her characters coming out of the sketches she draws straight from her imagination. In the next one, a young bully from a middle school who doesn't respect the rules of Halloween at all regarding candy collection is punished by monstrous clowns. In the next, a psycho killer played by comedian Bill Pacer is punished by a clown for trying to kill children by giving them candy with box cutters in it. Other stories include a drug dealer getting killed in a gas station bathroom, a morgue lady getting punished for her heinous acts, and more that we'll leave to you to discover.
Bad Candy easily delivers on its promise of offering a film perfectly cut for a Halloween revisit and benefits from a set-up that is typical of the pulps, those horrific comics that told short but effective stories and easily met the demands of their many readers. The main plot of the film with these two DJs is rather interesting as it allows to align the different stories with a sustained rhythm. Certainly we will not know the reason of certain events here told but the directors Scott B. Hansen and Desiree Connell have finally proposed a good anthological movie around Halloween and we can only encourage you to discover it when it is released.
Bad Candy
Directed by Scott B. Hansen, Desiree Connell
Produced bySteve Gebara, Scott B. Hansen
Written by Desiree Connell
Starring Zach Galligan, Derek Russo, Corey Taylor
Music by Chris Dudley
Cinematography: Scott B. Hansen, Blake Studwell
Edited by Scott B. Hansen
Production companies : Digital Thunderdome, Black Triad Entertainment
Distributed by Kaleidoscope Entertainment (UK)
Release date : August 27, 2021 (FrightFest), September 10, 2021 (United States), October 4, 2021 (UK)
Running time : 100 minutes
Seen on August 6, 2021 (Frightfest press screener)
Mulder's Mark: