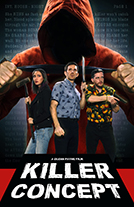 Running time:
80 minutes
Director:
Glenn Payne
Release:
Cinema
Release date:
Not communicated
Rating:
A screenwriter, a photographer and a mystery writer collaborate to make a horror film inspired by a killer with a predilection for victims named after flowers who wreaks havoc on his community. But what two of them don't know is that the third is the real maniac and will do anything to conceal his modus operandi, whether real or fictional.
Mulder's Review
Some will say that Killer is a simple horror comedy that doesn't really bring anything new to the genre and others will say that it seems to be a short film that has been stretched into a feature film. For our part, Killer Concept is above all a disappointing film that seems to want to make a genre film without really grasping its mechanisms.
We can't say enough about the importance of a scenario that not only creates a disturbing atmosphere but also gives the characters a real psychology. In this case, we often have the impression to have an independent film which tries to propose a different approach of the slasher film but which seems not to really know in which direction to go.
We discover three creative people (a screenwriter, a photographer and a mystery writer) who team up to write a script about a series of murders in their town, but one of the three might be closer to the story than the others think. The idea of the film would be a good premise if the director and writer had really known how to create a real suspense and not to assemble in an artificial way several scenes more or less successful and mastered. The result is a film that constantly hesitates and whose violent scenes are neither convincing nor perfectly mastered.
While several other films of the official selection of Frightfest have totally convinced us, Killer concept cruelly lacks efficiency and has totally disappointed us.
Killer concept
Directed by Glenn Payne.
Produced by Casey Dillard, Glenn Payne
Written by Casey Dillard
Starring Glenn Payne. Casey Dillard, Coley Bryant, Caroline Upthegrove, Caleb Hall
Music by Matthew Steed
Cinematography: James Puckett
Edited by Glenn Payne
Release date :
Running time : 80 minutes
Seen on august 27th 2021 (FrightFest festival)
Mulder's Mark: