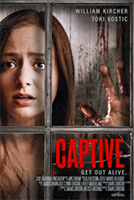 Running time:
95 minutes
Director:
Savvas Christou
Release:
Cinema
Release date:
Not communicated
Rating:
A tense psychological thriller that explores twisted family ties and the ties that truly bind. Lily runs away from her abusive father. Just when she thinks she has found help, she finds herself locked in a basement by the mysterious Evan. Although he is clearly delusional, Evan possesses an innate sadness that makes his every move an unpredictable nightmare for the frightened Lily to navigate safely. So she pretends to be his daughter in order to plan his escape.
Mulder's Review
It would be too simplistic to define Captive as a micro-budget film with maximum effectiveness, as this first film, which had its European premiere at the Frighfest festival, certainly establishes the writer and director Savvas Christou as a new director to follow. We will never say again how important it is, whatever the budget of a film, that it be based on an excellent script, a perfectly mastered cast and a director who is totally committed. In this sense, Captive sufficiently invigorates the closed-door thriller but also manages to maintain our attention without any false note.
Running away from her abusive father, Lily (Tori Kostic) a teenager finds herself trapped by a man, Evan (William Kircher) with psychopathic impulses who believes she is his daughter. After attempting to escape, Lily must play Evan's game and pretend to be his daughter to stay alive.
The numerous twists and turns of the film and the well-crafted editing make Captive a masterful first film that cleverly tackles the themes of the explosion of the family cocoon and its reformation, as artificial as it may be, of a reinvention of a better reality even if it means forcing a person to adhere to it, and above all that of imprisonment and of a strong will to remain standing. Far from being a new film about a hostage situation, Captive plays with comedy during certain sequences as well as with the fear of the other to hold our attention.
If the film succeeds in being perfectly gripping it is thanks to the character of Lily who had to build a cocoon with a violent father who abused her and who by misfortune is going to find herself in front of a real psychopath but with whom, unlike her real father, she will have a certain amount of leeway once she understands how to deceive and manipulate him to achieve her ends. In this sense, the end of the film may surprise more than one spectator and in this way Captive is also an original and successful first film. We are now impatiently waiting for Savvas Christou's new film and we hope that he will find the same efficiency that he shows here.
Captive
Written and directed by Savvas Christou
Produced by Savvas Christou, Melissa Gutierrez
Starring William Kircher, Tori Kostic, Meghan Hanako, Jolene Andersen, Jairus Carey
Music by Dimitris Mann
Cinematography: Manuel Velásquez
Edited by Javad Emami
Distributed by Vertical Entertainment (United States)
Release date : August 27 2021 (Frighfest)
Running time : 95 minutes
Seen on August 19, 2021 (Frightfest press screener)
Mulder's Mark: