Running time:
88 minutes
Director:
Peter Daskaloff
Release:
Cinema
Release date:
Not communicated
Rating:
Sharyn Berkley (Ashlynn Yennie) must undergo an emergency appendectomy. But when she wakes up from the hospital, she finds herself trapped in an underground medical facility. The head surgeon, Dr. Aaron Hellenbach, refuses to tell her where she is and why she is incarcerated. All she knows is that other prisoners are being perpetually mutilated and then miraculously healed with a secret formula. Sharyn must delve into her sordid, criminal past to fully understand what is going on. And when she finally grasps the full horror of her situation, it may be too late.
Mulder's Review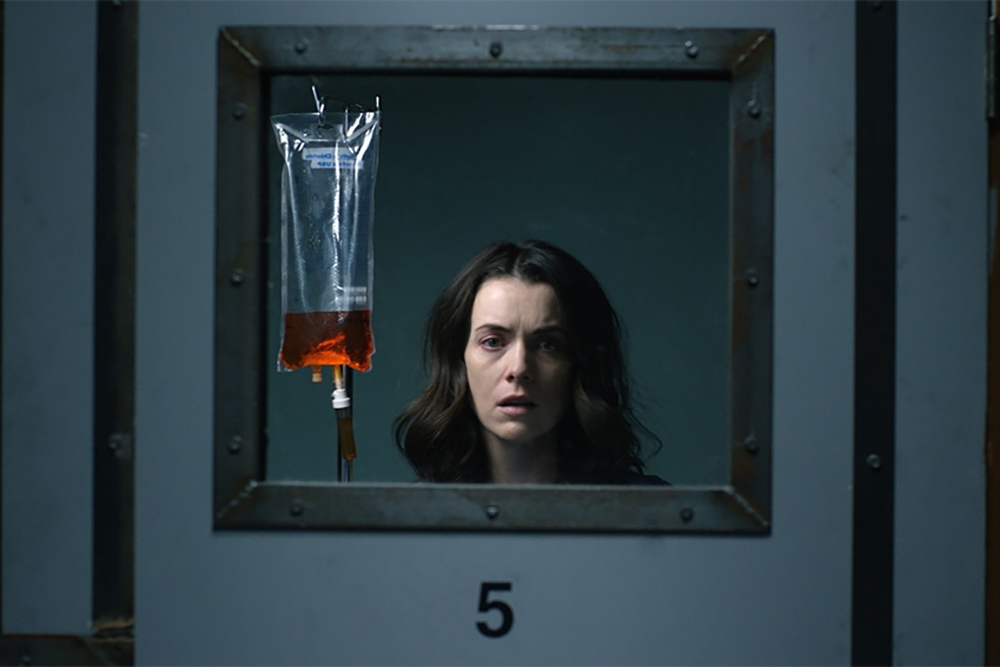 We all have a real fear of hospitals, so much so that they are attached to our unconscious, and the horrific cinema has well understood this and often used this place to reach the phobias of the spectators. The director and screenwriter Peter Daskaloff has well understood this with his new film (Sex and the Single Alien (1993 and reboot in 2005), Sunsplit (1997), Clyde Cooper (2018)) and delivers a very disturbing medical horror thriller whose atmosphere will remind many of the cult series The Fourth Dimension (Twilight Zone).
We thus discover Sharyn Berkley (Ashlynn Yennie), a woman who after being admitted to the hospital for an emergency surgery wakes up in a medical facility close to an insane asylum. Patients are treated like lab rats as mysterious doctors experiment with a cure for all ills, not hesitating to torture them. Clinical research is brutal in this setting and human endurance is tested. Sharyn Berkley must find a way to escape or continue to be used day after day as one of these human guinea pigs.
Far from being a simple game of massacre totally gratuitous, Antidote is more like a medical thriller close to the fantastic and alternates images of Sharyn Berkley's past and her imprisonment in a center that looks more like an army laboratory than a real hospital.
The director fails to deliver an excellent thriller and easily manages to hold our attention and play with the nerves of the audience. The solid interpretation of this film and a neat photography make us easily enter this film and hope that the heroine Sharyn Berkley will not end up butchered on the operating table. Despite a very low budget and using almost only one set (a corridor and rooms of this very particular hospital), director Peter Daskaloff manages to create a real palpable tension.
Even if the end of the film can be guessed a long time in advance, one can easily feel that director Peter Daskaloff preferred to put the emphasis on creating a real Cauchermardesque atmosphere (which he succeeds perfectly) rather than waiting for the last few minutes to unleash an unbridled imagination. Antidote remains a small B-series, but it keeps you on your toes long enough to watch with pleasure.
Antidote
Written and directed by Peter Daskaloff
Produced by Peter Daskaloff, Alexi Stavrou, Ashlynn Yennie
With Louis Mandylor, Ashlynn Yennie, Yorgos Karamihos, Augie Duke, Christos Vasilopoulos.
Music: Ryan Harrison
Cinematography : Lucas Pitassi
Editing: Vanagan Gaboudian
Production company: Souvenir Films
Release date: May 11, 2021 (USA), August 30, 2021 (UK)
Running time: 88 minutes
Seen on august 21, 2021 (Frightfest ress screener)
Mulder's Mark: