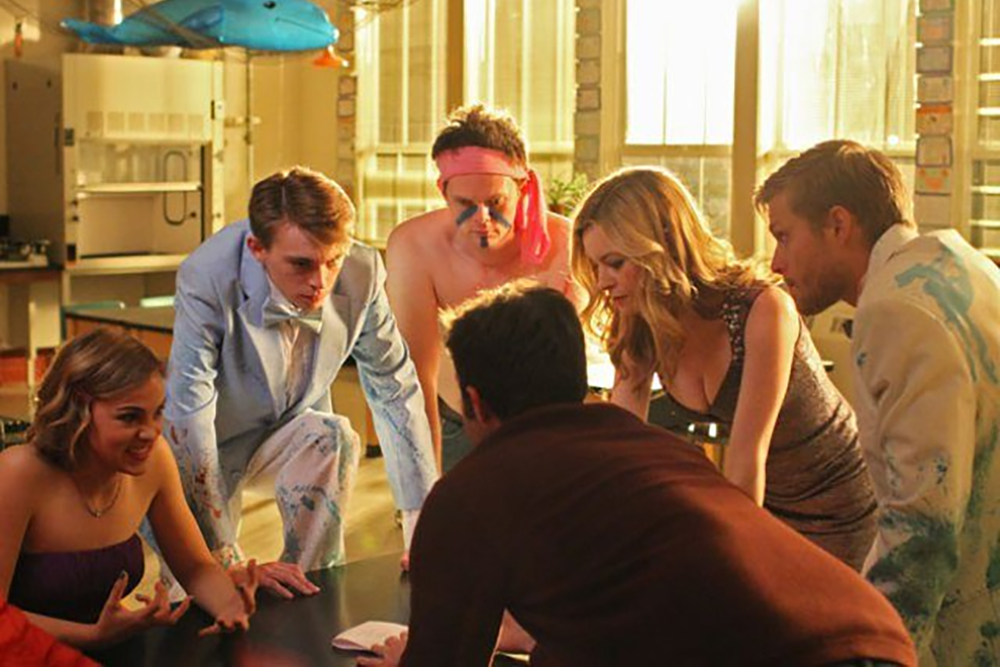 Some films are created with such a passion for genre cinema that they literally blow up the screen. For all those who grew up in the 80's, films like Friday the 13th (1980), Gremlins (1984), The Return of Godzilla (1984), Critters (1986) but also a little more recently Faculty (1998) are an integral part of their DNA as these films have set the fantasy or horror genre ablaze with passion and for some have become cult. In the same way by discovering the first film written, produced, directed and edited by Pierce Berolzheimer we return to these films but also to the first film El mariachi (1992) of Robert Rodriguez as it announces the undeniable emergence of a promising director.
In a global context in which a pandemic is ravaging the world as if nature had decided to put man face to face with his responsibilities by dint of tests in laboratories and the razing of entire forests, the director and screenwriter Pierce Berolzheimer takes up the postulate of nuclear danger to bring back to life genetically modified prehistoric mutant horseshoe crabs. In the very first scene, an obvious nod to the genre films of the 1980s, a scene marks the first deadly encounter between two young Americans and a horseshoe crab. The calm of a coastal town in California will be forever altered as a horseshoe crab invasion attacks not only the town but virtually the entire world. Against this backdrop, a single group of young people, including a disabled man who is in love with the daughter of a teacher at his college, will stand up against the invasion.
To tell the truth, nothing can prepare you to discover this film as it seems to have been created with so many excellent ideas that it could make some Hollywood producers jealous. Pierce Berolzheimer demonstrates his film culture and genuine love for monster movies and even gives a nod to the most annoying Star Wars character Jar Jar Binks with this foreign exchange student who turns out to be a real badass. While Krabs! could have been a horror movie as simplistic as perfectly orchestrated, this one easily exceeds the violent monster movie to go not only on the gore movie ground (the make-up is perfectly mastered) but also on the pure Kaiju movie ground (one will think of Godzilla as well as Pacific Rim).
Certainly Pierce Berolzheimer didn't have the budget of these recent American blockbusters, but his film is so jubilant that it takes the spectators on an irresistible trip through the history of American cinema, whether it's a scene taking place during the college prom, a classroom scene with a teacher to die for or a scene in a bar in the style of Gremlins, Crabs! is definitely a film destined to become a cult that doesn't shy away from blending genres with such ease that it becomes addictive. The film can easily be divided into three parts and each one shows how much Pierce Berolzheimer takes care of his film and shows us that American independent cinema is capable of totally surprising us and giving us the urge to applaud in front of certain scenes.
In the same way the director knew how to surround himself with very promising young actors. The main characters are perfectly treated and show the great care given not only to the script but also to the photography and direction of this film. This one reminds us of an improbable but successful crossing of Goonies vs giant monsters. The director shows that he was able to digest many films and take the best of them to deliver us not only one of the best genre films of this year but also one of the best first films of this year. Where some studios seem to apply preconceived formulas to artificially give birth to blockbusters, Pierce Berolzheimer would rather be the bad boy of the class having decided to give a big kick to the current industry to show that independent cinema has at least the merit to let their imagination run free to directors who thus deliver the best of themselves. Certainly Crabs! is a cult film that will be heard of long after its release.
Crabs!
Written and directed by Pierce Berolzheimer
Produced by Pierce Berolzheimer
Starring Jessica Morris, Dylan Riley Snyder, Robert Craighead, Allie Jennings, Justen Overlander
Music by Mike Trebilcock
Edited by Pierce Berolzheimer, L. Gustavo Cooper
Production companies : Raven Banner
Distributed by Raven Banner (Canada)
Release date : August 26, 2021 (Frightfest)
Running time : 80 minutes
Seen on August 19, 2021 (Frightfest screener press)
Mulder's Mark: