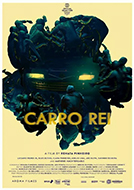 Running time:
99 minutes
Director:
Renata Pinheiro
Release:
Cinema
Release date:
Not communicated
Rating:
Since birth, Uno, the son of a cab company owner, has had the unusual ability to talk to cars. When such a car takes his mother's life, he completely detaches himself from this world and devotes himself to sustainable agriculture. But, being part of a family obsessed with engines, this dream proves short-lived. Tragedy strikes, and a new ban on vintage automobiles jeopardizes his father's business, prompting Uno to return. With his unstable uncle and a defiant performance artist (who is determined to end the mechanical patriarchy), he sets out to modernize the company's vehicles for this new era. This is Carro Rei, the car of the future, a perfect symbol of the relentless human innovation of the 20th century... and a fitting emblem for its end in the 21st.
Mulder's Review
It is interesting to realize the influence of a film on our collective memory. Just by reading the script of the film King Car by the director Renata Pinheiro, we remember with pleasure the cult book by Stephen King and its visionary adaptation by the master of horror John Carpenter in the homonymous film Christine (1983). However, the film King because of the Brazilian co-writer and director Renata Pinheiro has enough originality and new ideas to hold our attention.
Uno, the son of a cab company owner, has an extraordinary link with cars: he can indeed talk to them. He befriends the car that saved him from a car accident when he was a child, but he also hears the old wrecks complaining about the law banning cars older than 15 years on the roads. With his uncle, he transforms his wrecks into futuristic, conscious and talking vehicles. They then attack the status quo under the banner of King Car. King Car is both a fantastic film anchored in our reality but also a real questioning of our current society in which overconsumption prevents us from really appreciating what we have and the freedom we have.
King Car illustrates once again the link between machines and man and the fact that the main setting is in a disturbing universe in which old cars seem to want to rebel reminds us of our too great dependence on new technologies. The big problem with this film is that it comes at the wrong time and will remain in the shadow of the excellent French film Titanium by Julia Ducournau with Vincent Lindon, Agathe Rousselle and the too rare Garance Marillier. These two films seem to start from the same mold and a reflection on our current society. The Renata Pinheiro however seems to want to give life to a film as strong in various sensations (we will not return to the many scenes in cars reminiscent of the film Crash (1996) by David Cronenberg).
King Car (Brazil)
Directed by Renata Pinheiro
Produced by Sergio Oliveira
Written by Sérgio Oliveira, Renata Pinheiro, Leo Pyrata
Starring Jules Elthing, Matheus Nachtergaele, Luciano Pedro Jr, Clara Pinheiro
Music by DJ Dolores
Cinematography : Fernando Lockett
Edited by Quentin Delaroche
Release date : NC
Running time : 99 minutes
Seen on july 28th 2021 (Fantasia press screener)
Mulder's Mark: