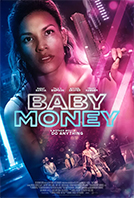 Running time:
93 minutes
Director:
Mikhael Bassilli, Luc Walpoth
Release:
Cinema
Release date:
Not communicated
Rating:
Minny (Danay Garcia) is pregnant. Good news, right? Not exactly. It's a more or less welcome accident, but she and her boyfriend Gil (Michael Drayer) are in love and choose to carry the pregnancy to term. But babies are expensive and neither parent-to-be is very wealthy, so they opt for a quick heist with Tony (Travis Hammer) and Dom (Joey Kern). The crime goes wrong, however, and soon Dom and Gil become fugitives. They hide out with nurse Heidi (Taja V. Simpson) and her cerebral palsy son, Chris (Vernon Taylor III, who has cerebral palsy in real life). This leaves them with hostages, plus they have to sell what they've stolen quickly so they can get away before the cops get their hands on them. No one wanted things to turn out this way, but to have the money to take care of a baby, you need what you need.
Mulder's Review
Covering Fantasia means discovering the best of the independent world cinema but also discovering many first films more or less mastered and interesting. In the case of Baby Money it was one of the biggest disappointments of this edition as the film is so long and useless dialogues. Making a short film and a feature film are two almost comparable exercises except that for a feature film you need a seductive content that can really hold our attention. Unfortunately baby money really lacks ideas and a real vision of directors able to turn a simple story into a film that can hold our attention.
The main plot of the film is that when a robbery turns into a bloody shootout, two fugitives take refuge in a single mother's house while waiting for their feisty (and very pregnant) getaway driver to work out an escape plan in time for a big payday. Certainly a home invasion or a closed-door setting can serve as a solid foundation to bring to life a thrilling film with many twists and turns. In this case, we are left with the impression of having a short film inflated to the maximum to make a film of regulation length.
However, in this film he has some good ideas, in particular to propose a criminal thriller by injecting perfectly mastered characters and in particular a pregnant woman, a child suffering from cerebral palsy in order to get out of the stereotypes proposed in this type of films. In the same way, Mikhael Bassilli and Luc Walpoth prove to be rather good directors and take care of the image of their first film. It is in the script and the use of music that the film could have been improved. The editing of the film does not manage to mitigate the impression of having a film that stretches out because it does not have much to tell.
Baby Money
Written and directed by Mikhael Bassilli, Luc Walpoth
Produced by Luc Walpoth, Nick Zuvic
Starring Michael Drayer, Danay Garcia, Joey Kern, Taja V. Simpson, Jean St. James, Travis Hammer
Music by Oumi Kapila
Cinematography : Drew Bienemann
Release date : Augsut 10, 2021 (Fantasia), August 31, 2021 (United States)
Running time : 93 minutes
Seen on august 06, 2021 (Fantasia press screener)
Mulder's Mark: