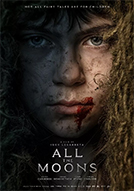 Running time:
102 minutes
Director:
Igor Legarreta
Release:
Cinema
Release date:
Not communicated
Rating:
It is the year 1876: war is raging in Spain. A young girl (Haizea Carneros) is severely wounded during the bombing of an orphanage, but a woman (Itziar Ituño) comes to her rescue, heals her wounds, and tells her that from now on she will have to keep away from the light of day, but that she will see many more full moons. In the eyes of the young orphan, this woman is an angel of heaven. Both of them must flee into the wilderness, as the soldiers are getting closer... Then, fate separates them; the orphan will have to find her refuge alone, and face an uncertain future that will last much longer than a human life.
Mulder's Review
After his debut film When you no longer love me (Cuando dejes de quererme) (2018), director and screenwriter Igor Legarreta returns with All the moon (Todas las Lunas) a horrific tale of mesmerizing beauty. Far from being another film about bloodthirsty vampires willing to kill as many people as possible to feed themselves, this film is akin to a beautiful film about the passage from childhood to adulthood, about life and memory and what makes us simply human. While the story could have been set in the present day, screenwriters Igor Legarreta and Jon Sagala have the excellent idea of starting the story in the year 1876 when a war is ravaging all of Spain.
In the last moments of the last Carlist war, a little girl, Amaia (Haizea Carneros) is rescued from an orphanage by a mysterious woman played by Itziar Ituño who lives deep in the forest. Badly injured and close to death, the young girl believes that the woman is an angel who has come to take her to heaven, but she will offer her the most coveted gift, that of immortality. But she will soon discover that this gift comes with measures to take into account because she has become a vampire. With no choice but to accept her new condition, she will have to learn to live in the deep and painful solitude of time, trapped in her little girl's body. An infinite number of moons pass before one day she meets Cándido (Josean Bengoetxea), a humble man who takes her in and treats her as if she were his own daughter. The little girl will take a new path, one that will see her rebel against her animal nature and bring back the hope of regaining the life that has been stolen from her.
All the moon (Todas las Lunas) is narrated like a true tale and relies not only on the excellent young actress Haizea Carneros but also on a cast of perfectly cast supporting characters. Far from wanting to inflict us again masses of special effects more or less successful, the director Igor Legarreta prefers to remain in a saving realism and use their use sparingly. In the same way, the care given to the photography of the film gives it an undeniable added value and makes that we penetrate in this film with pleasure and follow the course of Amaia from her stolen innocence to her learning of life through her body of eternal child. Revisiting the recurrent theme of the vampire myth in cinema,
All the moon (Todas las Lunas) shows us that nothing is all white or all black and that there are often contrasting shades. The passage of time is perfectly captured here and shows us the fragility of our own existence as well as the fact that we lose people close to us and have to continue to fight every day.
All the moon (Todas las Lunas)
Directed by Igor Legarreta
Produced by Ibon Cormenzana, Ignasi Estape, David Naranjo, Sandra Tapia, Jerome Vidal, Koldo Zuazua
Written by Igor Legarreta, Jon Sagala
Starring Josean Bengoetxea, Haizea Carneros, Itziar Ituño
Music by Pascal Gaigne
Cinematography : Imanol Nabea
Edited by Mikel Serrano
Production companies : Filmax
Distributed by Filmx (Spain)
Release date : August 19, 2021 (Fantasia)
Running time : 102 minutes
Seen on August 17 (Fantasia Screener press)
Mulder's Mark: