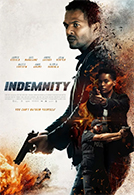 Running time:
142 minutes
Director:
Travis Taute
Release:
Cinema
Release date:
Not communicated
Rating:
Theo Abrams (Jarrid Geduld) used to be an excellent firefighter, but he had to retire prematurely due to a severe post-traumatic shock: some of his colleagues and friends lost their lives on the job. Then, one day, the entire Cape Town police force comes looking for Theo; someone has committed a horrible crime, and it is assumed that the ex-fireman is the perpetrator. Theo has no memory of doing what he is accused of, and as he tries to figure out what really happened, he discovers a secret so terrible that the police chasing him become the least of his worries. All hell is about to break loose.
Mulder's Review
This year's Fantasia festival never ceases to surprise us with an excellent selection of independent films from all over the world. The first film written and directed by Travis Taute will remind some of the Jason Bourne universe with its way of delivering a realistic action film based on a gripping paranoid thriller in which the tempo is perfectly oiled to keep us on the edge of our seats for more than two good hours.
After an introductory scene introducing us to the character Theo Abrams (Jarrid Geduld), a Cape Town firefighter whose exemplary courage is no longer to be proven, who will find himself in a difficult situation. Unable to cope with the situation, he will suffer from a severe post-traumatic stress disorder that will make him unable to resume his work. The situation will be even more complicated for him when he wakes up one morning near the body of his murdered wife, without any memory of what happened and that everything leads to believe that he is the killer. His wife, a journalist, has received important information about a worldwide arms supplier that puts her life in danger without her realizing it. Chased by the police and several mercenaries, Theo Abrams will not only have to find out what really happened but also have to face his own past and realize that appearances are often deceiving and the search for the truth often requires a heavy price to pay.
Indemnity looks like a successful mix of Andrew Davis' The Fugitive (1993) with Harrison Ford and the action thriller often proposed by American studios and which the public is quite fond of. However, this is a South African film, which gives it a special aura. In the same way, relying on a cast that is practically unknown to the general public, this film owes its success only to an efficient direction and perfectly choreographed action scenes. The actor Jarrid Geduld has nothing to envy to the adored actors of the action movies and especially realizes most of his stunts in order to make more credible the efficiency of this movie. We will remember in particular a scene in which Theo Abrams is forced to jump out of the window of a 21st floor tower to escape from the police and his fight scenes in which he often has to face enemies more trained than him at first sight. Yet Theo Abrams' past makes him a real time bomb.
Travis Taute's film is certainly not perfect and does not have the same means as the American films of the Majors today, but it gains in credibility what it loses in originality. The result is a film that amply fulfills all its promises and manages to entertain us intelligently and to never take the easy way out to develop the story. We will definitely hear more from this promising director who proves to be much more skilled in action scenes than in more dramatic moments.
Indemnity
Written and directed by Travis Taute
Produced by Bradley Joshua, Benjamin Overmeyer
Starring Nicole Fortuin, Jarrid Geduld, Andre Jacobs, Gail Mabalane, Louw Venter
Music by Kyle Shepherd
Cinematography: Zenn Van Zyl
Edited by Simon Beesley
Release date : August 11, 2021 (United)
Running time : 142 minutes
Seen on August 12, 2021 (Fantasia Festival)
Mulder's Mark: