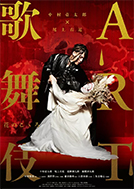 Running time:
86 minutes
Director:
Kazutaro Nakamura
Release:
Cinema
Release date:
Not communicated
Rating:
A traditional theatrical form intended to be epic, with spectacular stories, sets, make-up and costumes, the invention of Kabuki is attributed to a priestess, Okuni, in the early 17th century. This street art quickly moved to theaters and has survived to the present day, remaining very popular in Japan. In 2020, when live theatrical performances were cancelled due to COVID-19, a young kabuki actor, Kazutaro Nakamura, assembled a unique team of artists consisting of classical dancers, traditional musicians and kabuki actors to offer Art Kabuki, a sumptuous filmed show enriched with the latest technological advances in the performing arts. The staging of this show would revolve around three themes: play, beauty and life. This message of hope would not only be for the Japanese people, but a source of comfort for people around the world.
Mulder's Review
This year again the Fantasia festival has succeeded in surprising us and even more so because if we were expecting a selection of only genre films such as fantasy films, horror thrillers, action films as original as successful, the selection this year opens up to new genres such as drama, dance films but also to Japanese filmed theater such as Art Kabuki.
Discovering a Kabuki show for the first time is a real experience and an immersion in a different culture, that of 17th century Japan. There is thus a real time necessary to immerse oneself in this filmed piece which rests as much on a neat and bewitching music but also on audacious pieces of dance and which seem to be without any impact on time. Here the ancestral Japanese tradition and modern art meet to deliver us a true visual experience.
However, it must be recognized that such a show must be seen in a real hall with a performance a few steps away from our seat and not at home or in a movie theater because the transfer obviously loses flavor and especially can not be seen and experienced in the same way. However, the director Kazutaro Nakamura has found the right approach to offer us a sincere tribute to the art of Kabuki without revisiting it from top to bottom and offers us a fascinating and innovative documentary film.
Kabuki Art
A film written and directed by Kazutaro Nakamura
With Ryutaro Fujima, Genkuro Hanayagi, Kazutaro Nakamura, Ukon Onoe
Running time: 86 minutes
Seen on august 02, 2021 (press access Fantasia festival)
Mulder's Mark: