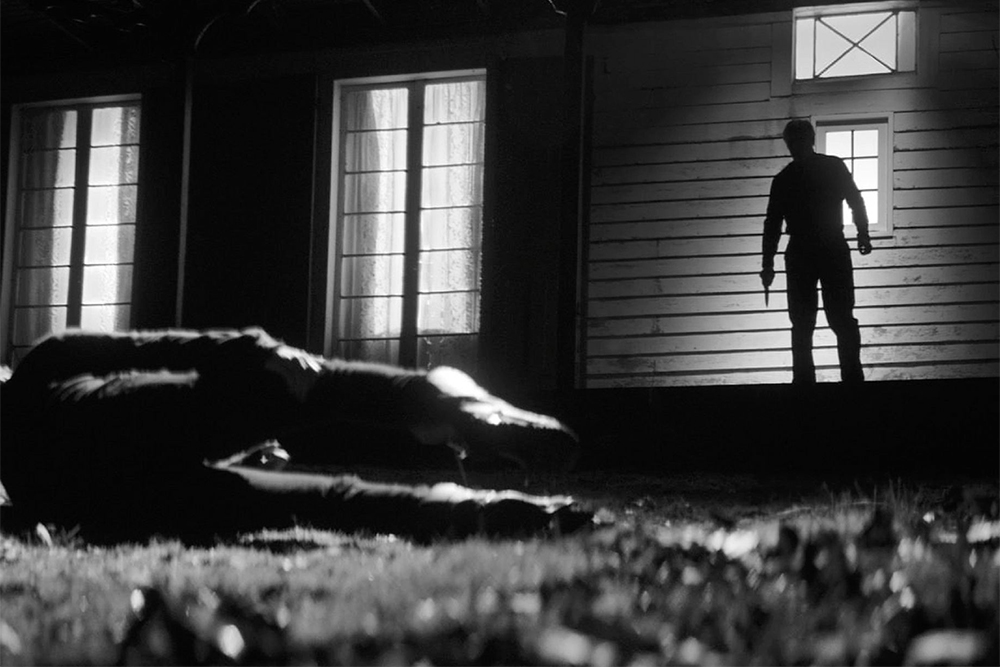 "The Righteous is a film that I wrote and directed and I star in and produced as well. It's basically about you know a man facing the wrath of a vengeful god. So, it's kind of very dark and kind of a psychological horror i guess in a way exploring faith and the lack thereof and you know the mistakes made in the past and how you have your comeuppance is kind of what it's about it's pretty dark." - Mark O'Brien
The first film of actor Mark O'Brien proves to be a brilliant exercise in style as it proves to be as original as very successful aesthetically. On a script he wrote himself, Mark O'Brien shows us once again the timeless side of the black and white format. This one brings an undeniable quality to this huis-clos dealing with belief, our humanity and the fact of knowing how to make important decisions in a well-considered way. The Righteous could have been one of the episodes of the cult series Twilight Zone as it seems to follow the same plot and the same economy of means without neglecting at any moment the story told. If the episodes of this series continue to influence many directors, it is not only due to the undeniable quality of the script but also to the vision of a committed director and a perfectly mastered cast. The same is true for The Righteous, which marks Mark O'Brien's very promising debut as a director.
From the very first minutes of the film and an emotionally charged introductory scene we discover a former priest, Frederic Mason (Henry Czemy) who has left the cassock to start a family. What could have been for him and his wife Ethel Mason (Mimi Kuzyk) a new start with the arrival of a child, will be a real hell when he is killed in a road accident. Some time later, one night, he and his wife receive a visit from a young stranger, Aaron Smith (Mark O'Brien) who will change their lives. It is interesting to see how the writer and director has managed to mix with Bryo an atmosphere close to the series The Fourth Dimension but also to inject a critical look at the relationship between man and religion. What could have been a thriller close to the home invasion turns instead into a relationship to faith between an unknown person who crashes into the life of two honest people living simply in withdrawal of society.
This psychological horror film benefits not only from an excellent trio of actors Henry Czemy, Mimi Kuzyk and Mark O'Brien but also from an inspired direction that avoids wallowing in filmed theater with its practically unique setting (the entire film takes place within three scenes in the house and exterior of Frederic and Ethel Mason. The great care taken with the film's photography and Andrew Staniland's music gives this first film its splendor and above all testifies to the fact that actor Mark O'Brien has been able to put into practice his knowledge of filming with seasoned directors like Noah Baumbach, Jason Reitman, Drew Goddard and Denis Villeneuve.
The Righteous is finally recognized by its very successful last act, which makes this film one of the highlights of the Canadian Fantasia festival. We can only encourage you to discover this film when it is released in theaters or on streaming platforms such as Netflix and Prime Video.
The righteous
Written and directed by Mark O'Brien
Produced by Mark O'Neill, Allison White
Starring Henry Czerny, Mimi Kuzyk, Mark O'Brien, Mayko Nguyen, Kate Corbett, Nigel Bennett
Music by Andrew Staniland
Cinematography: Scott McClellan
Edited by K. Spencer Jones
Release date : August 15, 2021 (Fantasia)
Running time : 97 minutes
Seen on August 14, 2021 (Fantasia Press Access)
Mulder's Mark: