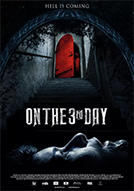 Running time:
84 minutes
Director:
Daniel De la Vega
Release:
Cinema
Release date:
Not communicated
Rating:
Cecilia and her son Martín have a car accident. On the third day after the crash, she wanders by herself on a lonely route and there is no clue of her son. She can't remember what happened during this time and she is desperately looking for her son. On her quest she finds coincidences with her case and other police files, which seem to be acts of a brutal hunting. The circles goes round and Cecilia will end up facing a religious man, who is the responsible of this slaughter. For her, he is a lunatic. For him, Cecilia is the enemy.
Mulder's Review
As part of our press coverage of the Canadian Fantasia festival, we were able to discover the new film by director Daniel De la Vega, On the 3Rd day. This one was conquered as much by its scenario propitious to numerous twists and turns but especially by a rather effective direction able to make us jump on our armchair and able to propose us very successful special effects.
The first scene of the film plunges us in full fright and presents us a person keeping in his cellar a person in a safe locked by many scenes. Then we witness a terrible road accident in the middle of the night. Three days later, Cecilia (Mariana Anghileri), a young woman walks along a deserted road, unaware of the whereabouts of Martin, her young son, who was with her in the car. But since the accident, what has happened? Cecilia can't remember. A killer is on the loose in the area, and the distraught mother will eventually discover similarities in some police files. The mystery thickens when Cecilia meets a religious man who is clearly responsible for several unsolved murders. She considers him crazy. He sees Cecilia as his enemy, a woman possessed by an evil spirit.
We can only recognize the undeniable know-how of director Daniel De la Vega to create a real anguishing climate and to know perfectly how to play with the nerves of the spectators. While the main heroine tries to find her son and to reconstitute the events that followed the accident, she will find herself facing a demonic force resembling a real vampire feeding on humans to continue to exist. Far from proposing continuous bloody scenes, the director Daniel De la Vega clearly prefers to propose a real psychological horror thriller. He benefits from a solid cast which makes us follow this film with interest until the final tragic denouement.
Argentina with this film shows that it is capable of proposing horrific films that have a hell of a hold and that have nothing to envy the current American productions. We can only advise you to discover this film which will be presented during the Fantasia festival this August.
On The 3rd Day (Al 3er día) (Argentina)
Directed by Daniel De la Vega
Produced by Daniel De la Vega, Néstor Sánchez Sotelo
Executive producer : Néstor Sánchez Sotelo
Written by Alberto Fasce, Gonzalo Ventura
Starring Moro Anghileri, Diego Cremonesi, Lautaro Delgado Tymruk, Osmar Nuñez, Gerardo Romano, Osvaldo Santoro
Music by Luciano Onetti
Cinematography: Mariano Suárez
Edited by Martín Blousson, Daniel De la Vega, Guille Gatti
Production companies : DEL TORO FILMS
Release date : Augsut 23, 2021 (Fantasia)
Running time : 84 minutes
Seen on July 29, 2021 (Screener press Fantasia)
Mulder's Mark: