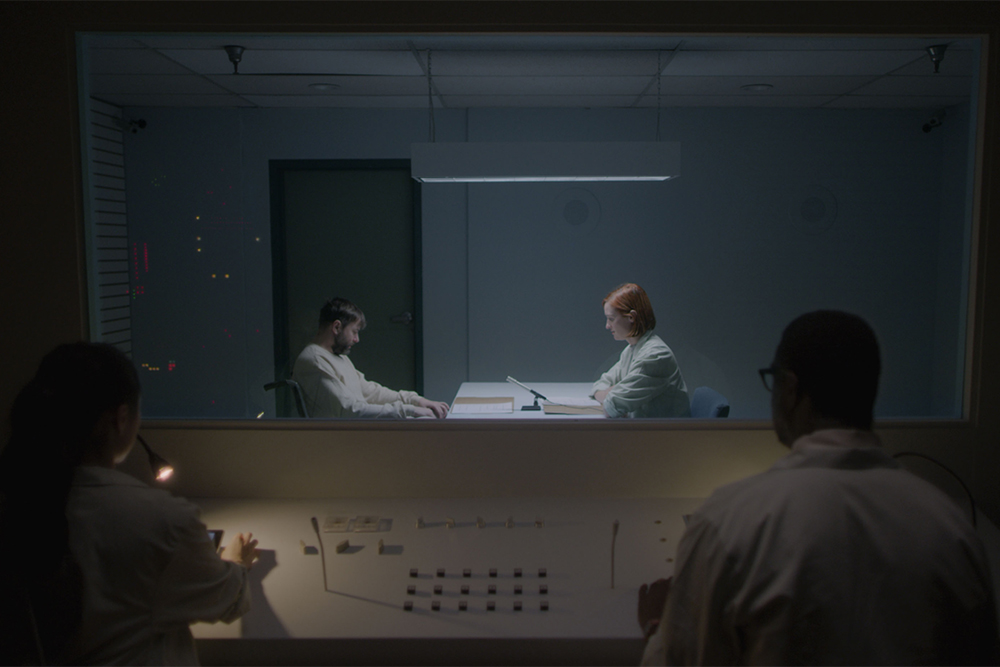 This year again, the Tribeca festival has allowed us to discover many documentaries but also films of all genres, comedies, dramas and even science fiction films like Utrasound which marks the directorial debut of Rob Schroeder.
Driving home late at night, Glen (Vincent Kartheiser) has car trouble. Near where his car is stopped, he spots a house, knocks on the door and is greeted by a strangely friendly middle-aged man, Arthur, and his young wife, Cyndi. The strange couple serves him a drink, then more, before making an unexpected offer Glen can't refuse, to sleep with his wife. Elsewhere, a young woman, Katie (Rainey Quailey), feels burdened by a secret romantic arrangement, and at the same time, in an unnamed research facility, Shannon, a medical professional, begins to question her role in a bizarre experiment, fearing that she is doing more harm than good.
The plot of Ultrasound has the merit of being certainly complicated to follow but totally immersive and we follow with interest the story that plays as well on deceptive appearances as on disturbing situations. Based on the graphic novel Generous Bosom by Conor Stechschulte, the film appears as a real puzzle to be reconstituted while really wondering in which abracadabraic situations the scenario signed by the author of this comic book wants to take us. The result is a film whose tone is close to that of the cult series The Fourth Dimension (Twilight Zone) in which the film seems to be broken down into three stories evolving in parallel but which end up meeting in a denouement as original as terrifying.
While Ultrasound would have had its place in festivals highlighting genre cinema such as the excellent Fantasia festival (Canada) and the equally successful Frightfest (England), one wonders if this film really has its place in a festival for the general public and with films that can be accessible to all. This is the strength of the Tribeca festival to welcome films from all horizons and especially to allow new directors to be known and appreciated by a large audience. We can't advise you enough to discover this film that is as original as it is disturbing and that marks a promising beginning for director Rob Schroeder.
Ultrasound
Directed by Rob Schroeder
Produced by Rob Schroeder, Georg Kallert, Charlie Prince
Written by Conor Stechschulte
With Vincent Kartheiser, Chelsea Lopez, Breeda Wool, Tunde Adebimpe, Rainey Qualley, Chris Gartin, Bob Stephenson
Music: Zak Engel
Cinematography: Mathew Rudenberg
Editing: Brock Bodell
Production companies:
Distributed by
Release date: June 15, 2021 (United States)
Running time: 103 minutes
Seen on June 16, 2021 (Press Access Tribeca Festival Online)
Mulder's Mark: