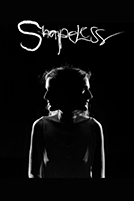 Running time:
88 minutes
Director:
Samantha Aldana
Release:
Cinema
Release date:
Not communicated
Rating:
Ivy, a struggling singer in New Orleans, trapped in the hidden world of her eating disorder, must face her addiction - or risk becoming a monster.
Mulder's Review
For our first press coverage of the Tribeca festival we had the chance to discover about forty films and some of them have an interesting look at our current world, on our quest to want to succeed at all costs whatever the price to pay. The premise of Samantha Aldana's first film could appear as an unlikely cross between an episode of the Fourth Dimension and a David Lynch film. Discovering Shapeless is a truly disturbing cinematic experience in which everything seems possible, including seeing a person lose his humanity little by little.
Ivy (Kelly Murtagh, also a co-writer) is a jazz singer who tries to make a living from her passion in New Orleans by performing every night when the competition is getting tougher. During the day, she works in a dry cleaning business. Her stressful days cause Ivy to drown her sorrows in a succession of repeated binge eating. When things couldn't get any worse for her, she realizes that her body is slowly changing and turning her into a real monster. Shapeless is a fantastic film about eating disorders and is a disturbing and frightening film.
The director Samantha Aldana signs here a remarkable first film which will remind us the strength of the horrific cinema to approach important themes of our current society. By limiting the interactions between Ivy and the outside world, Shapeless quickly makes us feel a claustrophobic impression supported by a perfectly mastered direction of photography. Shameless is therefore easily the promising debut of a director with a real look at our society. The great care given to the direction and the inspired acting of Kelly Murtagh make Shapeless a film to discover.
Shapeless
Directed by Samantha Aldana
Produced by Lizzie Guitreau, R. Todd Campbell, William Ramsey, Brian C. Miller Richard
Written by Kelly Murtagh, Bryce Parsons-Twesten
Starring Kelly Murtagh, Bobby Gilchrist, Jamie Neumann, Marco Dapper, Erika Ashley, Gralen Bryant Banks
Music by Mandy Hoffman
Cinematography: Natalie Kingston
Edited by Stephen Pfeil
Release date : June 12, 2021 (Tribeca)
Running time : 88 minutes
Seen on June 11, 2021 (Tribeca Festival Online press access)
Mulder's Mark: