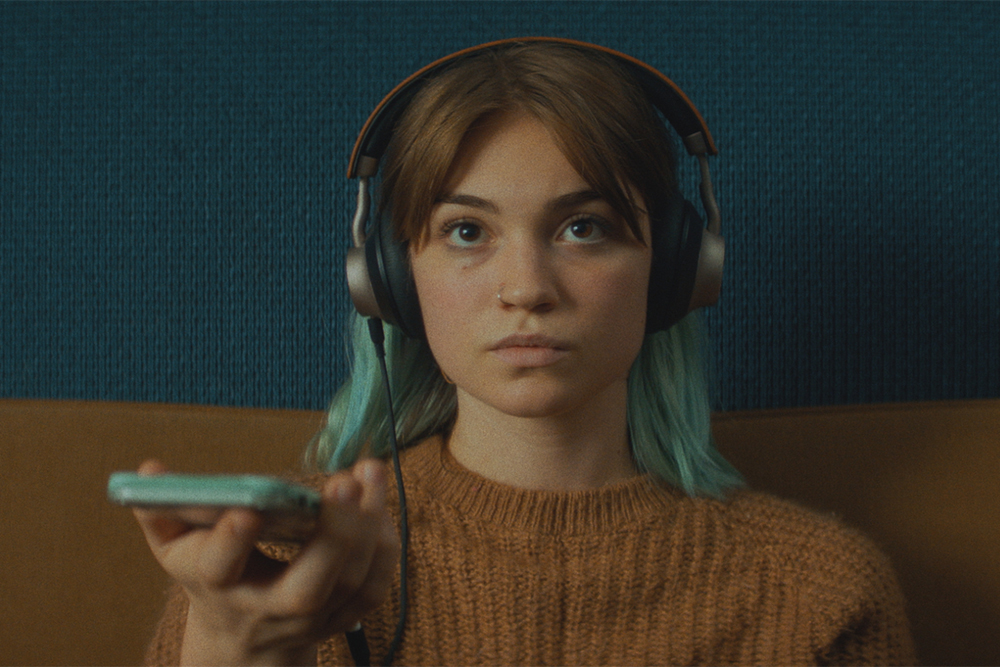 The Tribeca Film Festival never ceases to surprise us with its eclectic program of first films, documentaries on a multitude of themes, genre films, and exercises in style by young directors. It is above all a breeding ground for very promising young talent and certainly the film Poser, which is the first feature film by the director duo Ori Segev, Noah Dixon held our attention and allowed us to discover a young actress with undeniable potential, Sylvie Mix.
The first great quality of Poser is to sound constantly right whether it is by taking an interesting look at the underground music scene but also on the development of a music podcast that wants to beat to the rhythm of new musical influences. We discover Lennon Gates (Sylvie Mix), a young woman with a passion for music who wants to create an ambitious podcast. She seems to live on the fringe of the independent music scene in Columbus, Ohio and wants to share her passion for music through her podcast by meeting several musical artists. Her different researches will make her path cross the one of the singer Bobbi Kitten (in her own role) and who will support her in her professional and personal development. However, this strong bond between these two women will have a tragic end...
Poser is not only a simple thriller that allows us to apprehend the musical environment and its numerous dangers but also to approach what makes our real personal identity. Whether we are subjected to various trends or immersed in a more or less creative environment, we are forged not only by our professional experience but also by a devouring passion and the environment in which we are. We can easily understand Lennon who is between the passage of adolescence and adulthood and who lives in a modest apartment in which she tries to find her marks notably by developing her podcast.
In the same way that a person can divide his time between his work and the fact of holding an online media (more commonly called blog). When she discovered the Columbus band Damn the Witch Siren in which Bobbi Kitten is the singer, she developed a strong attraction not only to their music but also to this singer with a fiery temperament. However, while we could have expected to follow a social comedy, Poser gradually turns into a real intense thriller and despite the apparent calm of Lennon, she turns out to be a real psychopath capable of tricks to achieve her ends.
The strength of this first film is to never look for the easy way out and to constantly surprise us. The two directors seem to care as much about the form as the content of their film and especially succeed in getting the best out of Sylvie Mix's solid interpretation. She proves to be perfect in her role and above all lets her beauty, fragility and coldness burst out at the same time. There is in the character of Lennon an artist in the making who seems not to have succeeded yet in finding her marks and who seems to find her inspiration near other artists. His character and his evolution is the main attraction of the film and it fascinates and worries us at the same time. Certainly we will hear again about the actress Sylvie Mix who alone deserves to discover this excellent first film.
Poser
Directed by Ori Segev, Noah Dixon
Produced by Drew Johnson, Juli Sasaki, Brett Reiter, Josh Nowak
Written by Noah Dixon
Starring Sylvie Mix, Bobbi Kitten
Music by Adam Robl, Shawn Sutta
Cinematography : Logan Floyd
Edited by Ori Segev, Noah Dixon
Release date : June 10, 2021 (Tribeca)
Running time : 87 minutes
Seen on June 12, 2021 (Tribeca Festival Online press access)
Mulder's Mark: