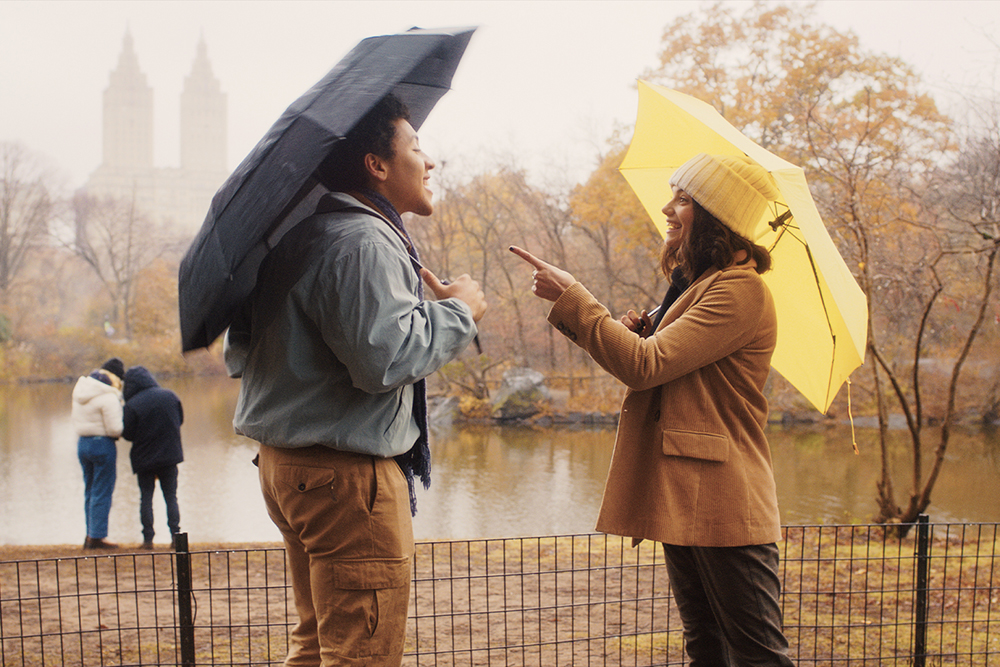 "Ever since watching Spielberg's Hook when I was four years old, I had to become a filmmaker. Thankfully my parents would expand my cinematic palette to the works of other director, but not by much, as my taste grew specific to feel good, well written, and sometimes magical stories about love -from Nora Ephron, Albert Brooks, and yes, a ton of Disney. Almost 26 years after telling myself I had to make movies, I finally was able to make the first feature film-appropriately titled Dating & New York. "Jonah Feingold
While we are still in a global pandemic that keeps on going on and on, it's always nice to take your mind off things and discover new romantic comedies. Discovered at the Tribeca Film Festival, Dating & New York is Jonah Feingold's first feature film. After many short films (Pokémon Writers Room (2016), Bangarang (2017)...) Dating & New York certainly establishes Jonah Feingold as a director of American independent cinema to follow.
Once upon a time in the magical realm of New York City, a city that doesn't sleep but sleeps a lot, the land of the world's best pizza and crowded subways, two single millennials, Milo (Jaboukie Young-White) and Wendy (Francesca Reale), find each other through the dating app Meet Cute. After a one-night stand, the magic of New York brings them together again and they write a "best friends with benefits" contract to avoid the pitfalls of a relationship. Will friendship and sex mix without any complications? With the help of Cole the doorman (Jerry Ferrara) and their friends Hank (Brian Muller) and Jessie (Catherine Cohen), who are also dealing with the complications of a new relationship, Milo and Wendy may just find what they're looking for.
The story of Dating & New York will remind some of Rob Reiner's cult film When Harry Met Sally (1989), yet director and writer Jonah Feingold finds his right tone and above all offers a modern fairy tale in a society in which communication seems to be more easily achieved through modern technology than through ordinary meetings. In the same way, Jonah Feingold pays the same attention to the writing of his film as he does to its form by resorting to numerous graphic illustrations.
While many Hollywood comedies seem to be looking for the easy way out, often appearing as mawkish as unrealistic, Dating & New York, despite its fairy-tale beginning, takes a rather realistic and interesting look at our current society in which meeting one's other half is becoming increasingly difficult. The result is an irresistible film with accurate dialogues and above all a perfect cast in which we find in the main roles Jaboukie Young-White, Francesca Reale, Brian Muller and Catherine Cohen.
The other irresistible attraction of the film is to give back to New York City all its cinematic splendor and we find with pleasure tourist places like Bryant Park Grill, Central Park, Washington Square Park and West Village. The success of this romantic comedy is all the more great that despite the reduced means, despite the difficulties encountered because of covid 19, the film is certainly one of the best romantic comedies discovered this year.
Certainly Dating & New York was one of the highlights of Tribeca this year and we can only advise you to discover it when it will be released in the coming months. If you like romantic comedies like we do and like to discover new talents, Dating & New York is definitely one of this year's must-see films.
Dating & New York
Written and directed by Jonah Feingold
Produced by Joaquin Acrich
Starring Jaboukie Young-White, Francesca Reale, Catherine Cohen, Brian Muller, Jerry Ferrara, Arturo Castro, Taylor Hill, Alex Moffat, Eva Victor, Yedoye Travis
Cinematography : Maria Rusche
Edited by Hanna A. Park
Music by Grant Fonda
Production companies : MXN Entertainment
Distributed by IFC Films
Release date : June 13, 2021 (Tribeca), September 10, 2021 (United States)
Running time : 91 minutes
Seen on June 14, 2021 (Tribeca Festival Online Press Access)
Mulder's Mark: