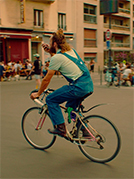 Original title:
Roaring 20's
Director:
Elisabeth Vogler
Release:
Cinema
Running time:
91 minutes
Release date:
31 december 2099
Rating:
In a single unbroken shot, Roaring 20's gives viewers the chance not only to travel to Paris, but to live a day in the life there during the COVID-19 pandemic.
Mulder's Review
As part of the Tribeca festival we were able to discover the second film by French director and co-writer Elisabeth Vogler (Paris is ours (2019)). It is interesting to see that the selection of films screened at Tribeca reflects a wide range of global independent cinema. In this case, Roaring 20's is vibrantly original but also a crazy gamble to make a film in six scenes with one take with about twenty actors whether they be non-professionals or well-known personalities like François Rollin.
Paris seems to be at the very center of director Elisabeth Vogler's creativity, as her first two films are built around this world-famous French city that attracted millions of people every year before the current global pandemic. Far from proposing like many American films a pictorial version of this city, the scenario of François Mark, Elisabeth Vogler, Noémie Schmidt and Joris Avodo tends to give a glimpse of our current society from a panel of people representative of our current society. The result is an inventive staging using the streets of Paris or the subway to present characters walking the streets of the capital of France and discussing everything and nothing.
Yet what is a succession of six scenes in one turns out to be as gripping as it is original. To discover Roaring 20's is to live a real cinematographic experience. Using the Covid 19 pandemic as a backdrop, this film quickly proves to be as fascinating as it is endearing. Independent cinema dares to tackle universal subjects without really worrying about fulfilling a set of specifications and being profitable at all costs. Roaring 20's is a film conscious of this atypical period that changed forever our achievements, transformed our life and brought us to come back to the main ones and to appreciate even more our freedom, our life with its good and bad moments.
Even if the film is imperfect and can be a little too long, it remains an undeniable success of a young director who prefers to go off the beaten track and propose a cinema that resembles her alive and true.
Roaring 20s (Années 20)
Directed by Elisabeth Vogler
Produced by Laurent Rochette
Written by François Mark, Elisabeth Vogler, Noémie Schmidt, Joris Avodo
Starring: Vladimir Seguin, Alice de Lencquesaing, Noémie Schmidt, Aurore Déon, Manuel Severi, Adil laboudi, Zoé Fauconnet, Léo Poulet, Fanny Santer, Lila Poulet-Berenfeld, Lilou Guillot, Elsa Guedj, Guillaume Pottier, Mehdi Djaadi, François Mark, Margaux Bonin, François De Brauer, François Rollin, Elie Salleron, Joris Avodo, Paul Scarfoglio, Léa Moret, Elise Tilloloy, Jean Thevenin
Music by Jean-Charles Bastion
Cinematograph y: Elisabeth Vogler
Production company : Les Idiots
Distributed by Films Boutique
Release date : June 12, 2021 (Tribeca)
Running time : 91 minutes
Seen June 13;2021, World Premiere at Tribeca Film Festival, International Narrative Competition (online)
Mulder's Mark:
Nicole's Review
In one, continuous shot,, Roaring 20's is groundbreaking in its ability to tell a compelling story while following the actors throughout Paris--never cutting or editing--a masterpiece of experimental filmmaking. It's the perfect fusion of film and live theater, yet feels like a slice of life. Set in the Summer of 2020, the film manages to use the backdrop of the Covid pandemic while not focusing on it. We follow various pairs of friends and acquaintances, as they move through the streets, Subways and parks of Paris, discussing life, politics, and art.
One of the first things that stood out was the true diversity within the film. Nearly every pairing had an ethnic actor. The filmmakers succeeded in capturing a Paris that tourists don't normally see; although they opened outside the iconic landmark of the Louvre and continued along the Seine, they then brought the audience through the arrondissements that visitors rarely see, the areas where normal citizens live.
The movie is a wonderful, roving adventure. It opens on a young man picking up his friend's sister. He hypnotizes her in a trust exercise, which she says plunged her into the abyss, and they must find her brother. As they pass two women carrying a large black statue, the camera begins following them, as the initial pair walks out of frame. That is the moment when the unorthodox filmmaking is clear. How do these people intersect, or do they? As we follow the new pair, we are privy to their debate about the importance of black--not only as a color but as a historical perspective. In a continuation of the metaphysical theme touched upon by the first pair, The women's discussion of how the blackest of blacks has been privatized, destroying what could have been a revolution in art, gives way to the idea that everything comes out of nothingness. Walking along the Seine, they pass by street performers, giving the viewer a morsel of Paris sounds.
As the movie continues, we follow several sets of people--giving us a glimpse into their lives and philosophical musings--all the while following them with a handheld camera that somehow was never overly jerky--and in fact incredibly smooth in some key transitions. At one point, it appears a pair is about to ride offscreen on their motorcycle; instead, the camera follows! Through gridlock traffic in Paris, squeezing beside trucks--even following along buildings whose window reflections never betrayed the following camera. As we follow the various pairs, deep philosophical concepts are discussed--the realization that we all die, self-consciousness during sex, emptiness, and loneliness.
In a behind the scenes glimpse into the magic behind the film, Tribeca's Karen McMullen interviewed the creative team of Noemi Schmidt, Francois Mark, Laurence Rochette, and Joris Avodo; three of the four were also actors in the movie. They had written the movie during lockdown, involving the process. In fact, they gave each actor the scene they were supposed to play but didn't give them the whole script. Each pair had no idea what was happening in the other 8-minute scenes. For choreography, they timed things out ahead, but they never stopped traffic. They spent a month in rehearsal. When filming, each team passed the camera off to each successive team. They explained it was like a long run; as each passed the baton, the new team would ask if it went okay. In total, they filmed the movie six times and used the fourth take.
They were filming in the middle of the crowded streets of Paris, people not knowing they were making a movie. One night, they were able to capture a brass band along the Seine, by happenstance. They engaged with random people and improvised with their responses. . The filmmakers did a fabulous job of creating a mosaic, each portion with the actors' own styles, like a stand-alone movie within a greater work of art.
Roaring 20s (Années 20)
Directed by Elisabeth Vogler
Produced by Laurent Rochette
Written by François Mark, Elisabeth Vogler, Noémie Schmidt, Joris Avodo
Starring: Vladimir Seguin, Alice de Lencquesaing, Noémie Schmidt, Aurore Déon, Manuel Severi, Adil laboudi, Zoé Fauconnet, Léo Poulet, Fanny Santer, Lila Poulet-Berenfeld, Lilou Guillot, Elsa Guedj, Guillaume Pottier, Mehdi Djaadi, François Mark, Margaux Bonin, François De Brauer, François Rollin, Elie Salleron, Joris Avodo, Paul Scarfoglio, Léa Moret, Elise Tilloloy, Jean Thevenin
Music by Jean-Charles Bastion
Cinematograph y: Elisabeth Vogler
Production company : Les Idiots
Distributed by Films Boutique
Release date : June 12, 2021 (Tribeca)
Running time : 91 minutes
Seen June 13; 2021, World Premiere at Tribeca Film Festival, International Narrative Competition (online)
Nicole's Mark: