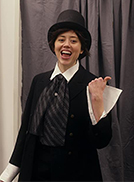 Running time:
106 minutes
Director:
Nicole Rodenburg
Release:
Cinema
Release date:
31 december 2021
Rating:
Alan is an insecure, perfectionist, mostly-closeted man from Minnesota. Jesse is an unpredictable, mysterious woman from West Virginia. They're complete opposites - and they've found themselves partnered together on a low-budget children's theatre tour for indifferent audiences across the Upper Midwest. Unsettled by each other, and each quietly suffering from emotional wounds of their own, they're a study in avoidance-until the reality of their forced proximity compels them to open up. As their friendship deepens, they begin to go rogue with their shows-rewriting them and redesigning them in order to better represent their voices, and as they do so, they find the courage to begin writing a new life for themselves.
Mulder's Review
Covering a festival like Tribeca often means discovering independent films that don't necessarily have the means to bring a film to life, but fortunately also an important pool of new talent. Certainly, the young director Nicole Rodenburg has given herself the means to make her first film, which she co-produced, for which she is responsible for the editing but also for the screenplay, and for which she has been given the female lead. This total professional investment can be felt in the film, which benefits from a gripping script, solid acting, as well as meticulous photography and effective direction.
As the world comes out of a confinement or even returns to it for some countries, this road movie, too typical of the comedies of the 80's and 90's, is a tempting offer of escape and knows how to make us laugh as well as move us. We follow the journey of two mismatched strangers, Jesse (Nicole Rodenbug) and Alan (Colin Froeber), who confront their fears of intimacy and inadequacy as they take a low-budget children's theater tour in a minivan through the frozen upper Midwest. As is, the script may not seem compelling, yet Nicole Rodenburg's skillful script and direction perfectly capture our attention.
Glob lessons is a touching look at the American heartland and the mismatched duo who must perform short plays in schools. The difficulty is all the greater because at the beginning the current does not pass between Jesse and Alan but as their tour progresses, they will learn not only to know each other better but also to appreciate each other. Making really endearing her two characters, the director succeeds in her first film and we can only recommend it.
Glob lessons
Directed by Nicole Rodenburg
Produced by Reilly Myklebust, Nicole Rodenburg, Colin Froeber
Written by Colin Froeber, Nicole Rodenburg
Starring Colin Froeber, Nicole Rodenburg, Edmund Donovan
Music by Matthew Ricketts
Cinematography : Dean Peterson
Edited by Nicole Rodenburg
Release date : June 12, 2021 (Tribeca)
Running time : 106 minutes
Seen on June 14, 2021 (Tribeca Festival Online press access)
Mulder's Mark: