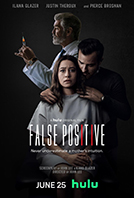 Running time:
92 minutes
Director:
John Lee
Release:
Cinema
Release date:
25 june 2021
Rating:
After difficult struggles with fertility, loving couple Lucy (Ilana Glazer) and Adrian (Justin Theroux) seem to have finally found their potential savior in the charming and world-renowned reproductive specialist Dr. Hindle (Pierce Brosnan). But as their dreams begin to come true and hope transforms to happiness, cracks start to appear in the façade of normalcy, sending the now-expectant mother into a spiral of suspicion that threatens her grasp on reality.
Mulder's Review
After several episodes of series (Wonder Showzen, Xavier: Renegade Angel, Delocated, Inside Amy Schumer, The Heart, She Holler, Broad City, Neon Joe, Werewolf Hunter...) and a first film Pee-wee's Big Holiday (2016), director and writer John Lee returns with a second film, False positive as part of the Tribeca festival. Yet we must admit that this second film is far from being a success and we understand better that it is broadcast directly on Hulu in the United States without going through the cinema so much the scenario seems messy and not knowing in which direction to direct the story.
After struggling with infertility, Lucy (Ilana Glazer) and Adrian (Justin Theroux), a loving couple, seem to have finally found their potential savior in the person of the charming Dr. Hindle (Pierce Brosnan), a world-renowned reproductive specialist. As if getting pregnant wasn't complicated enough, Lucy (Ilana Glazer) sets out to discover the disturbing truth about her fertility doctor and how she's been manipulated against her will. False Positive could have been a medical thriller bordering on the fantastic, but the tempo of the film is so slow and uncertain that a real boredom sets in despite the presence of appreciated supporting actors like Justin Theroux and Pierce Brosnan.
Yet the film started rather cleverly by discovering the main female character Lucy in blood staggering in a deserted street. We didn't know what had happened but we were about to find out since the first scene of the film is the last scene of the story which will be told in flashback. Is Lucy really in the grip of supernatural forces or is she just a pawn in a real conspiracy? False Positive deals with the excesses of science and the fact that in a deeply masculine society, women do not seem to be totally free of these actions. While False Positive has some gory elements and seems to be built to appeal to a genre film audience, this one constantly disappoints with its many hesitations. It is not an obvious nod to Roman Polanski's cult film that will save this film, nor even less one of the last scenes that turns to the greatest surrealism that leads us to reconsider this film as anything other than a failed film that we cannot recommend.
False Positive
Directed by John Lee
Produced by Ilana Glazer, John Lee, Jonathan Wang, Allison Rose Carter
Screenplay by John Lee, Ilana Glazer
Story by John Lee, Ilana Glazer, Alissa Nutting
Starring Ilana Glazer, Justin Theroux, Pierce Brosnan, Sophia Bush
Music by Yair Elazar Glotman, Lucy Railton
Cinematography : Pawel Pogorzelski
Edited by Jon Philpot
Production company : A24
Distributed by Hulu
Release date : June 18, 2021 (Tribeca) June 25, 2021 (United States)
Running time : 92 minutes
Seen on June 19, 2021 (Tribeca Festival Online Press Access)
Mulder's Mark: