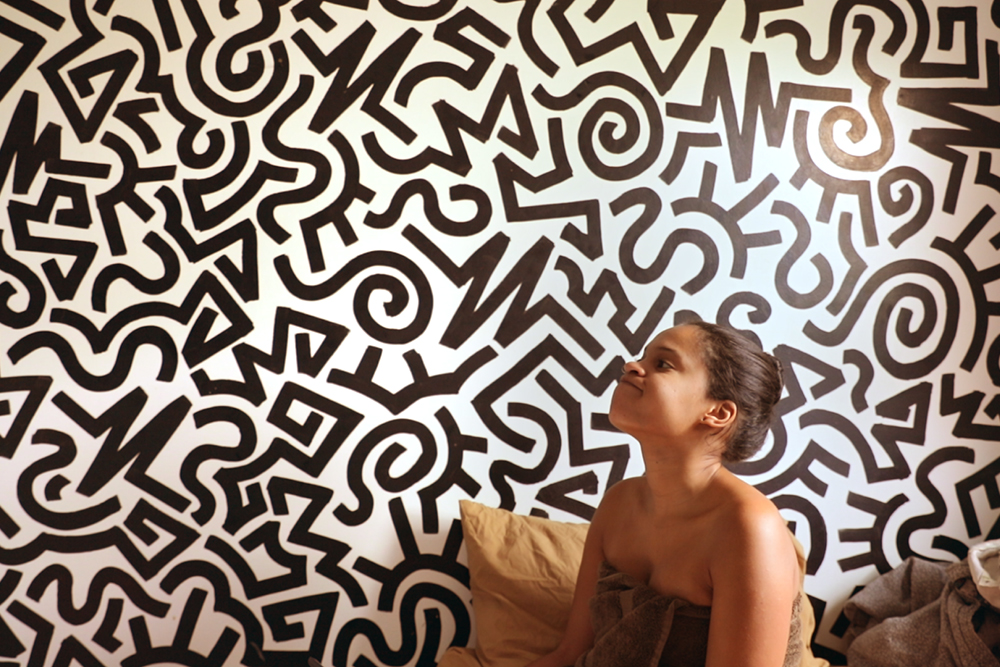 From the Duplass Brothers, comes the movie As of Yet. Born of the Covid Pandemic, the movie opens on day 81 of lockdown in New York. The star Taylor Garron also wrote and co-directed, alongside Chanel James. Garron plays Naomi who is bored and isolated, while her roommate is off in Florida to weather the quarantine. Naomi's online romance with Reed has heated up, and an in person meeting has become a real possibility. As she begins to share her thoughts with her soon-to-return roomie, tensions mount.
While it's an accomplishment in itself to complete a film during Covid, the roommate, played by Eva Victor, was drawn in a very one-dimensional way. Her portrayal as a selfish friend was so on the nose, that it detracted from Naomi's conflict. It's hard to imagine the roommate had ever been a good friend, considering her obvious attempts to manipulate Naomi and guilt her into canceling her plans. Had the roommate been drawn with a more subtle form of control-- and perhaps infused some type of positive connection--then Naomi's conflict would have felt more believable.
There were some fun comedic appearances. Ayo Edebiri plays one of Naomi's besties. Ayo also appeared as a street performer in How it Ends, which aired alongside As of Yet at Tribeca. Ayo and Quinta Brunson brought a fun, lighthearted energy and strong performances to their scenes. It felt as though a good portion of the dialogue was improvised. Both are comedians, actresses and writers--and definitely ones to watch as they rise in the industry.
The subject of race was definitely prominent, with discussions between Naomi and her cousin who was critical that her love interest Reed wasn't black. By his own admission, he's neither white nor black. There was a compelling scene between Naomi and her mom (via video call, like much of the movie's scenes); her mother admits to having been a Black Panther in her youth. Current politics are further touched on in Naomi's conversations with her roomie about the Black Lives Matter protests. Clearly they have opposing perspectives. That being said, there was no major black versus white tension. Naomi has an ongoing, open dialogue with a neighbor who is white.
As of yet
Directed by Chanel James, Taylor Garron
Produced by Ashley Edouard, Taylor Garron
Executive producers : Mark Duplass, Jay Duplass, Mel Eslyn, Priyanka Mattoo
Written by Taylor Garron
Starring Taylor Garron, Eva Victor, Amir Khan, Quinta Brunson, Ayo Edebiri
Cinematography: Jamal Solomon
Edited by Melissa Kan
Production company : Duplass Brothers Productions
Distributed by ICM (United States)
Release date : June 11, 2021 (Tribeca)
Running time : 81 minutes
Seen June 12 2021 at Tribeca Film Festival, Viewpoint Section, online
Mulder's Mark: