Running time:
86 minutes
Director:
Roshan Sethi
Release:
Cinema
Release date:
Not communicated
Rating:
Set up on a pre-arranged date by their old-fashioned Indian parents, Ravi (Karan Soni) and Rita (Geraldine Viswanathan) seemingly have nothing in common, making for an afternoon that, while pleasant enough, could not be any more awkward. He's conservative and clearly nervous, while she's doing her best to politely keep on smiling. But then the unthinkable happens: As the COVID outbreak intensifies, the shelter-in-place mandate is issued, forcing Ravi to spend the night at Rita's place. Before long, he sees that she's not the straightlaced girl she initially pretended to be-for starters, she's quick to pound a beer for breakfast. As their time stuck together stretches toward a full week, though, Ravi and Rita develop an unlikely bond, and in the face of a heartbreaking turn of events, that bond grows into something stronger.
Mulder's Review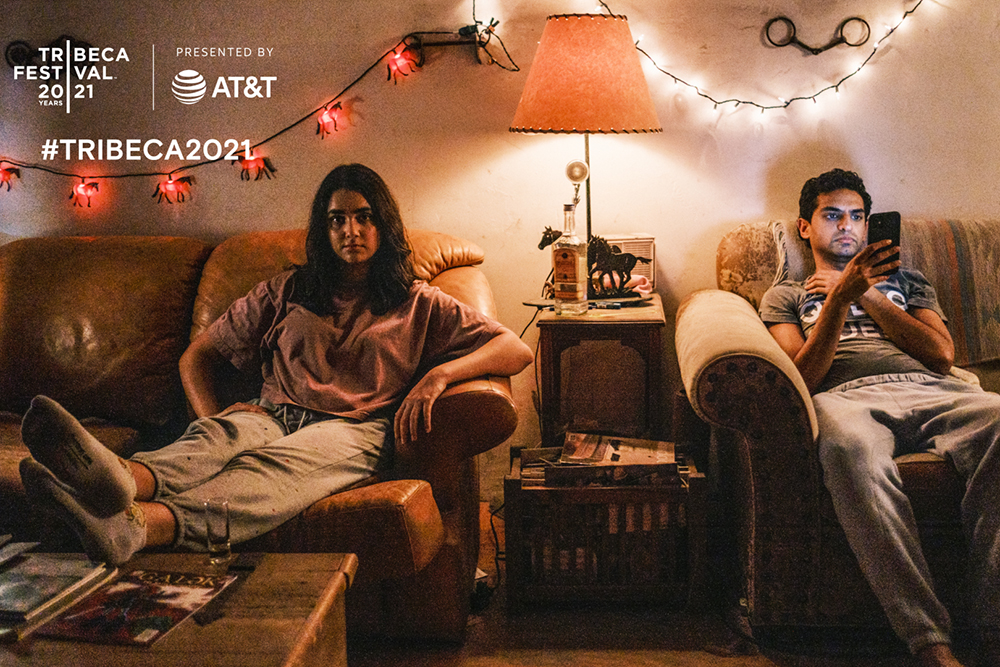 What deep mark will this global Covid19 pandemic leave on our current society? While the current societies seem to leave the research of the real source of this one (China seems to be according to several research the origin of this plague), the cinema for its part seems to have found here an important thematic and already many films approached the forced confinement, the development of the virus at all the levels of our society. Discovered during the virtual edition of the festival, the first film co-written and directed by Roshan Sethi is one of the few successful comedies we could discover based on the effects of this global pandemic.
After a pre-arranged date by their parents doesn't go as planned, Ravi (Karan Soni) and Rita (Geraldine Viswanathan) are forced to live under the same roof for an extended period of time due to the COVID-19 pandemic and mandatory lockdown. Shot almost in camera, this comedy is jubilant in the way it takes elements of a romantic comedy and modifies them to suit its own purposes. The chemistry between the duo composed by Geraldine Viswanathan and Karan Soni turns out to be perfect and the neat dialogues make that we watch this film with attention and spend an excellent moment.
It is even more interesting to see how the deceptive morals and appearances of our society make us never judge a person at first sight. During the first meeting between Ravi and Rita nothing seems to work and we can easily understand it because the arranged meetings often amount to put in the same cage two felines who will roam around each other to make a first impression often wrong of the other. By living under the same roof, this mismatched couple will finally start to appreciate each other by seeing not only their many qualities but also their flaws.
While Ravi and Rita's parents boasted to each other about the qualities of their children. Ravi being for his mother the perfect son, equally intelligent, refined and an excellent cook and Rita for her mother the perfect Indian housewife in her traditional version, it will turn out that these two people hide many secrets. Roshan Sethi has perfectly captured the current mores of Indian families but also to stage the many quarrels between Ravi and Rita. The result is a not-so-romantic comedy with a devastating charm that rings true and manages to make us laugh and move us several times. Certainly 7 Days marks the promising debut of director Roshan Sethi and we are looking forward to his new film.
7 Days
Directed by Roshan Sethi
Produced by Mel Eslyn, Liz Cardenas
Written by Roshan Sethi, Karan Soni
Starring Karan Soni, Geraldine Viswanathan, Mark Duplass, Zenobia Shroff, Aparna Nancherela, Gita Reddy, Jeffrey Self
Music by Amanda Delores Patricia Jones
Cinematography : Jeremy Mackie
Edited by Stephanie Kaznocha
Production companies : Duplass Brothers Productions, Ten to the Six Pictures
Release date : June 10, 2021 (Tribeca)
Running time : 86 minutes
Seen on June 11, 2021 (Tribeca Festival Online press access)
Mulder's Mark:
Nicole's Review
As if their pre-arranged date, organized by their traditional Indian parents, wasn't excruciating enough, Ravi and Rita are forced to shelter in place together as COVID lockdown goes into effect. Ravi becomes stranded for 7 days with Rita, with whom he seems to have nothing in common.
From the Duplass Brothers, 7 Days has humor and heart while exploring the idea of arranged marriage, authenticity and the need for love. Set in the early days of the Pandemic, the subheading could easily have been Love in the Time of Covid. The lockdown forces them to truly get to know each other, which is ironic because the whole idea behind an arranged marriage is to follow the guidance of the parents in choosing a suitable match--and make a lifelong commitment to someone you barely know.
Reminiscent of When Harry Met Sally, The movie opens with interviews of real, married couples who met in various ways--one arranged, another on the Indian version of Match.com and yet another thorough a brief family introduction. Perhaps in a moment of well-placed foreshadowing, one of the husbands cautions that it's not a bad idea to know someone ahead of time.
The film then slides into our main characters, as their mothers create their kids' online profiles, in a search for the perfect match. We meet Ravi who is a guy with traditional values, career focused, vegetarian and has no hobbies by choice. And there's Rita who, according to her mother, is also a vegetarian, never drinks and has a favorite hobby of cooking for her in-laws.
The filmmakers utilized great ironic humor. When Ravi and Rita are on their first date, what first appears to be a perfect location for a date--blue skies, palm trees--ends up being a dried up lake. The awkwardness between the two is heightened by their masks (even though they're outdoors) and Ravi's rubber gloves.
The filmmaker employed a creative display on the screen, sharing with the audience the phone alerts Ravi and Rita receive--declaring a national emergency and grounding flights. They rush back to her house where empty beer bottles suggest Rita's profile wasn't altogether accurate. To their horror, they learn Ravi is stuck and must stay with Rita, at least for the night.
Both the tone and humor were heightened by artful directing, scoring and design. The feeling of discomfort was communicated by utilizing handheld cameras while Ravi and Rita debate the convention of arranged marriage; Rita says it's a psychotic way to meet someone. The use of drums and other percussion instruments intensify moments of both drama and humor. The lighting was beautiful but crafted in a way that made it appear intrinsic to the setting--utilizing colored lamps and string lighting. And in a moment where Ravi bares his soul, the room is dark, and a lamp shines on him like a stage spotlight.
In addition to the percussion, Indian music is used--in a way that seems natural, like the lighting--when Ravi asks Rita to dance. The light becomes colorful and flashes, as if they're in a club, still believably that of an apartment. Over the course of 7 days, they vacillate between fun and disdain but ultimately get to know one another as they discuss and debate love, connection and loneliness.
7 Days
Directed by Roshan Sethi
Produced by Mel Eslyn, Liz Cardenas
Written by Roshan Sethi, Karan Soni
Starring Karan Soni, Geraldine Viswanathan, Mark Duplass, Zenobia Shroff, Aparna Nancherela, Gita Reddy, Jeffrey Self
Music by Amanda Delores Patricia Jones
Cinematography : Jeremy Mackie
Edited by Stephanie Kaznocha
Production companies : Duplass Brothers Productions, Ten to the Six Pictures
Release date : June 10, 2021 (Tribeca)
Running time : 86 minutes
Seen June 11 2021, Premiere Screening, Tribeca Film Festival
Nicole's Mark: