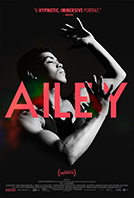 Running time:
82 minutes
Director:
Jamila Wignot
Release:
Cinema
Release date:
23 july 2021
Rating:
An immersive portrait of dance pioneer Alvin Ailey, told through his own words and a new dance inspired by his life.
Mulder's Review
Who was Alvin Ailey ?
This documentary that we missed when it had its world premiere last January at the Sundance festival that we covered was also on the program of the Tribece festival and we were thus able to discover it in our personal comfort during its broadcast of this festival. A renowned dancer, choreographer and director, this artist founded the Alvin Ailey American Dance Theater (AAADT) and its affiliated school, the Ailey School, to enable African American artists to express the universality of the African American experience through dance.
Ailey looks back on her life through numerous archival images. Director Jamila Wignot conceived her documentary film as a true immersion in the work of one of the major players in the world of dance. It is not by chance that this film is conceived according to the voice-over of this artist who thus comes back to his childhood in Texas marked by a strong segregation, his career in Hollywood and Broadway and his will as a choreographer to form his own troupe to illustrate strong ideas
Ailey is instructive but also a real immersion in the work of a major artist. We find many sequences of beautiful dance created by his company but also many images of the rehearsals of the students of the school he created. There are also many interviews with personalities from the dance world such as Bill T. Jones, Carmen de Lavallade and Judith Jamison.
Ailey
Directed by Jamila Wignot
Produced by Jamila Wignot, Lauren DeFilippo
Music by Daniel Bernard Roumain
Cinematography : Naiti Gámez
Edited by Annukka Lilja
Production companies: Insignia Films, Impact Partners, ITVS, American Masters, XTR, Black Public Media, Artemis Rising Foundation, JustFilms Ford Foundation
Distributed by Neon
Release date : January 30, 2021 (Sundance), July 23, 2021 (United States)
Running time : 82 minutes
Seen on June 18, 2021 (Tribeca Festival Online press access)
Mulder's Mark: