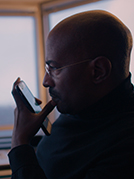 Running time:
90 minutes
Director:
Brandon Kramer
Release:
Cinema
Release date:
Not communicated
Rating:
In a divided America, Van Jones attempts to pass a landmark criminal justice bill - and finds himself under fire from all sides. Activists try to move forward with criminal justice reforms but meet resistance from other parties. These struggles showcase the divided state of American domestic policy.
Mulder's Review
This year during the Tribeca festival we could discover many documentaries on the viewing platform. Some of them completely convinced us like the new film by Brandon Kramer The First step (City of trees (2015), Saaba (2017)). In a global context in which a pandemic has literally made our society wobble and in which politicians seem to have different views to control and manage the situation, this film falls perfectly. The first step is a political documentary that successfully manages to show us the workings of a political campaign. We follow black progressive activist and political commentator Van Jones as he crusades to reform a broken criminal justice system.
Van Jones is known in the United States for calling Donald Trump's election a "Whiplash" live on primetime television. Forced to find his place between increasingly tense political and racial divisions, this politician is trying to get his project done and his voice heard. His journey is made all the more difficult by the fact that he is condemned by the left wing parties for embracing conservatives and by the right wing for his progressive beliefs. His activism is thus put to the test and allows this film to take the audience into the political backstage worthy of the best American series with their streams of multiple twists and turns.
As the title of the film indicates, Van Jones' goal is to get the First Step Act passed. This act aims to improve criminal justice outcomes, as well as reduce the size of the federal prison population while creating mechanisms to maintain public safety. This film is fascinating in the way it looks at the workings of the American political system and especially in the way it gives voice to various personalities such as the Deputy Director of the ACLU's Washington Legislative Office Jesselyn B. McCurdy, founder and executive director of the National Council for Incarcerated & Formerly Incarcerated Women and Girls Andrea James, U.S. Representative Bonnie Watson Coleman (of New Jersey) and Black Lives Matter co-founder Patrisse Cullors.
The First step
Directed by Brandon Kramer
Produced by Lance Kramer
Starring Van Jones, Donald Trump, Kim Kardashian, Senator Kamala Harris, Senator Bernie Sanders, Jared Kushner
Music by Joshua Abrams
Cinematography : Emily Topper
Edited by Natasha Livia Mottola, Steven Golliday, Leslie Simmer, Sara Fusco
Production companies : Meridian Hill Picture, Magic Labs Media, Hidden Empire Film Group, Big Mouth Productions, Artemis Rising Foundation, Fork Films, Kartemquin Films
Release date : June 10, 2021 (Tribeca)
Running time : 90 minutes
Seen on June 11, 2021 (Tribeca Festival Online press access)
Mulder's Mark: